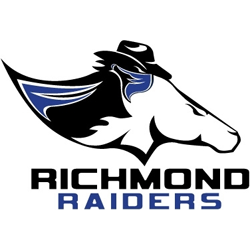 The Richmond Raiders professional indoor football team will hold open tryouts for the 2015 season on Saturday, October 18th at their brand new practice and training facility, Sports Reality.  Players should be prepared to participate in a variety of drills including short shuttle, timed 40 yards for skill positions, timed 20 yards for offensive and defensive linemen, and one on one drills.  The tryout will be held on turf so all players should come dressed to work out in appropriate clothing and shoes.  No pads, helmets, or metal cleats will be necessary or allowed.
Tryouts will be led by Raiders Head Coach James Fuller and his staff. Coach Fuller led the Raiders to back-to-back conference championships in 2012-2013. The cost to try out is $50 per person in advance online or $55 the day of camp.  Payments made in person may be made with credit card, cash or money order – no checks will be accepted.  To register, prospective players should visit the Tryouts section of the Raiders' website by going to www.RichmondRaidersProFootball.com and clicking the Tryouts button.  To pay in advance, visit the Tryout section of the website's online store.
Participants must be 18 years of age and able to provide proof of birth date. This is a professional tryout and participants will no longer be eligible to participate in NCAA sanctioned football should they participate in testing.
The tryouts will be open to the public.  For more information, contact the Raiders' office at (804) 780-4970 x141 or [email protected].  Get a sneak preview of Sports Reality, the state of the art facility soon to open in Hanover County, at www.gosportsreality.com.
The Raiders will return to the Richmond Coliseum for their sixth season in the spring of 2015.  Schedule and season ticket information will be announced in the near future.  Check www.RichmondRaidersProFootball.com for updates and more information on the team's offseason appearances and activities.
###