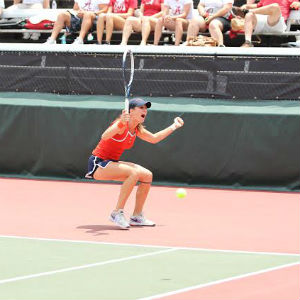 The UVA women's tennis team is headed back to the NCAA Sweet 16 for the fifth consecutive season after grinding out a 4-2 win over South Carolina in second round action on Sunday (May 10) at Snyder Tennis Center.
Reigning NCAA singles champion Danielle Collins (St. Petersburg, Fla.) rallied for a 6-7, 6-4, 6-3 win over Caroline Dailey to clinch the 4-2 victory as the ninth-seeded Cavaliers extended their winning streak to a season-high eight matches and improved to 23-5. Virginia will play No. 8 seed Baylor or Rice in the NCAA round of 16 on Friday (May 15) in Waco, Texas.
"I'm extremely proud of our kids," Virginia head coach Mark Guilbeau said. "That was not easy. Once again we had the doubles point in hand and much like our match against South Carolina in January, they battled us today to the smallest of margins. Over the course of the weekend, everyone had a part in our success. Win or lose, doubles or singles, it was a group effort."
The Cavaliers captured the doubles point and Maci Epstein (Winter Park, Fla.) and Stephanie Nauta (Galveston, Texas) added important singles wins against the Gamecocks (15-11).
UVa won the doubles point for the fifth consecutive match, tallying wins at Nos. 2 and 3. Nauta and Cassie Mercer (Huntington, W.Va.) beat Meghan Blevins and Megen Cochran 8-3 on court two and Collins and Epstein followed with an 8-2 win over Elixane Lechemia and Ximena Siles Luna on court three. No. 28 Julia Elbaba (Oyster Bay, N.Y.) and Skylar Morton (Bethesda, Md.) trailed No. 40 Hadley Berg and Dailey 5-3 on court one when the point was clinched.
South Carolina tied the score at 1-1 as Berg defeated Mercer 6-3, 6-0 on court six. UVa gained a 2-1 lead as Epstein beat Siles Luna 6-2, 6-0 on court five. The Gamecocks quickly knotted the score at 2-2 as Brigit Folland beat Morton 6-4, 6-3 on court four. Nauta regained a 3-2 lead for the Cavaliers with a 6-1, 6-4 win over Blevins on court three.
No. 15 Collins was down a set and trailed 3-0 in the second set before posting the clinching win. No. 6 Elbaba was battling in the third set against No. 45 Lechemia when Collins clinched the win.
First serve for Virginia's round of 16 match at Hurd Tennis Center is set for 8 p.m. ET.
Notes: Play was halted for 13 minutes during the match due to a rain delay. Virginia improved to 2-0 against South Carolina this season. The Cavaliers defeated the Gamecocks 5-2 on Jan. 30.