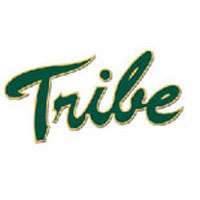 The William and Mary men's basketball knocked down a season-high 14 3-pointers and combined for 27 assists in pulling away from Elon, 89-67, on Thursday night at Kaplan Arena.
The Tribe (13-5, 5-2 CAA) connected on 55.4 percent from the floor and 50 percent from long range in dispatching of the Phoenix (12-8, 3-4 CAA).
Sophomore Connor Burchfield drilled 6-of-7 from 3-point range, including four straight at one point, in recording a career-high 20 points. Junior Daniel Dixon returned to the Green and Gold lineup, tallying 18 points on 7-of-14 shooting to go with a career-high six assists. Senior Terry Tarpey turned in a workman-like 10-points, seven-rebound, three-blocked shot stat line, and fellow classmateSean Sheldon continued his strong play just missing a double-double with nine points and nine rebounds.
W&M hit on 36-of-65 (55.4 percent) from the floor and hit on better than 54 percent in both halves. The Green and Gold knocked down 14-of-28 (50 percent) from 3-point range. The 14 triples tied for the six-most in W&M history, while the Tribe's 27 assists tied for the fifth-best single-game total in program lore.
The home team also held a dominating 40-26 advantage on the glass. Tarpey reached a pair of milestones on the evening, becaming just the ninth player in W&M history with 700 career rebounds, while also recording his 800th career point.
Elon shot 42.4 percent (25-of-59) from the floor, including 10-of-29 (34.5 percent) from 3-point range. After hitting on 8-of-16 3's in the opening half, W&M limited the Phoenix to just 2-of-13 (15.4 percent) from distance in the second 20 minutes. Seibring led Elon with 18 points, including a perfect 5-of-5 from 3-point range. Eddy added 13 points and three assists, while Swoope tallied 12 points off the bench.