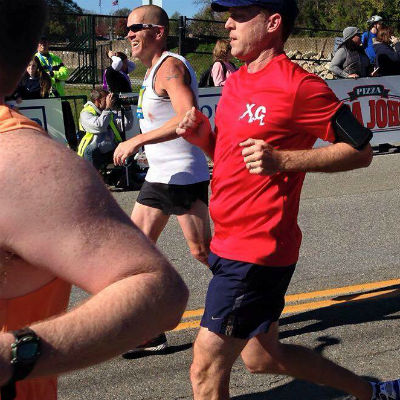 Seventeen miles into my first marathon, the 2015 Anthem Richmond Marathon, I was thinking about how I was going to finish.
I was still unofficially averaging 7:45 per mile, well ahead of the pace that I had set for myself going in, hoping to get out in 3:45:00.
I was looking at maybe a sub-3:30:00 finish at this stage.
But this stretch over the James River would ultimately zap me. At Mile 20, a hill ahead was already claiming several members of the pack that I had been tracking with for the past 10 miles, with a number of runners in the 3:20:00 to 3:30:00 group reduced to walking.
I trudged up the hill just above The Diamond, but I wasn't the same after, and finished in 3:39:29, an 8:22 per mile pace, still beating my goal by 5:31, and hey, I finished in stride, running to the end.
That wasn't a guarantee. At Mile 24.5, I had my first severe cramp, in my left calf, and had to consciously change my gait to hit my left heel on the ground to stretch it out as I ran.
I also felt some residual effects from a slight groin strain suffered in one of last pre-race training runs earlier in the week as the marathon went on.
The sprint for the last mile that I had been envisioning earlier in the race was now out of the plans. Every step was an exercise in just trying to avoid a shutdown cramp.
I was successful in that effort. It was frustrating, to say the least, losing more than 10 minutes to my early pace in the last six miles, but I'm taking the positive.
I put up a time, and now I can work to improve upon it.
I heard more than once from veteran runners to not swear off trying another marathon after experiencing issues in my first one.
My thinking, even with the issues with muscle cramps in the final miles, was as far from swearing off marathons as could be.
I think, no, I'm pretty sure, that I can get really good at this marathon thing.
And Richmond is on my calendar for next November, and God willing Novembers thereafter. The folks in charge of the event in Richmond do an awesome job. The race was well done all the way around, from the packet pickup and expo at the Arthur Ashe Center on Friday, to the thousands of Richmonders lining the race course on Saturday.
The water and food stations along the way were well-stocked, and well-placed. Among the items that helped me get through my long run were jellybeans, gel packets, orange slices, Coca-Cola and Twizzlers.
Music stations set up every few miles added some needed energy to our running packs.
Kids offering high-fives along the route were a nice touch for encouragement sake.
And the signs. My favorites:
"This is the worst parade ever."
"If Trump can run for president, you can do this."
"Wouldn't it be easier in a car?"
The personal accomplishment hit me as I made my way back downtown for the last mile. Two years ago, I weighed 280 pounds, and among the last things I thought I'd ever do would be running a marathon.
It wasn't that I wasn't physically active. In fact, I was an avid powerlifter, once bench-pressing 475 pounds, with a career-best 646 squat.
But I knew that I needed to lose weight, did so, and one day about 18 months ago, I started running, first struggling to get a mile in, running (and winning my age group) in a 5K last October, then deciding in the spring to work toward Richmond.
Yeah, there were some tears as I crossed the finish line, for the hard work, and a few for the fact that I wouldn't be able to call my mother, who passed away two months ago from cancer, and tell her that her son had just done something else crazy, this time the crazy thing being a 26.2-mile run.
It wasn't all roses and medals after the race. The groin strain and the calf cramps kept me from making it upstairs to go to bed last night, so I slept on the couch, and I'm still slowly getting back full range of motion.
It'll be a few days before I'm back to normal.
And now I have to find a new goal to motivate me for at least the short term. I have already circled the April 2 Charlottesville Marathon on my calendar, but that's a winter and a couple of weeks of spring away.
For months, everything I did, training-wise and otherwise, was focused on Nov. 14. I feel a bit rudderless right now, but that's OK.
There's a 5K in a couple of weeks that I've signed up for. That ought to get the competitive juices flowing again.
– Column by Chris Graham