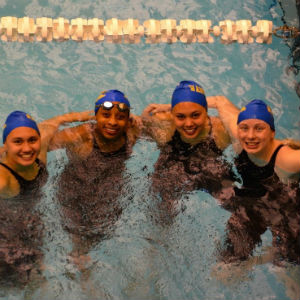 Over 560 swimmers and their families are coming to Waynesboro this week, bringing both competition and tourism dollars to the community.
For 19 years, the Shenandoah Marlins Aquatic Club (SMAC) has been hosting one of the largest outdoor swimming competitions in the Commonwealth of Virginia.  The 2015 Subway Commonwealth Games long course swim meet will be held at the War Memorial Pool in Waynesboro's Ridgeview Park, June 26-28.
Numerous coaches, Virginia Swimming officials, and swimmer's families will also attend the meet, bringing a large influx of activity to Waynesboro and the surrounding area. Three full days of competition will begin early Friday morning and continue through Sunday evening.  The 562 swimmers from twelve teams throughout the state will compete in the eight-lane, 50-meter pool.
Over 1,500 hours of volunteer effort are required to run the three-day meet, in addition to many hours of planning and preparation.  Virginia Swimming officials and SMAC parents provide the bulk of volunteer hours with additional assistance from the Waynesboro Generals, the Waynesboro Rotary Club, members of the Waynesboro High School National Honor Society, and parents from visiting swim teams.
Many community establishments are making donations to SMAC to aid in meet Hospitality, keeping volunteers and coaches well fed and hydrated over the weekend.  A number officials and coaches will be at the pool in excess of 12 hours per day.  They will be enjoying provisions from the following area businesses:  Big Apple Bagel, Blackjack & Company, Buffalo Wild Wings, Chick-fil-A, Heritage, Hershey, Logan's Roadhouse, McAlister's Deli, Panera Bread, Plaza Azteca, Starbucks, Virginia Amateur Sports, and the Woodworth Family Kitchen.
Hospitality donations have also been received from:  Food Lion, Harris Teeter, Martins, Target, and Walmart.
Additional support has been provided by:  Augusta Health, Best Western Plus, Dr. Brumbaugh, Pediatric Dentist, DuPont Community Credit Union, Dubose Egleston, Jr., The Green Leaf Grill, Swim & Tri, Wayne Lanes Bowling Center, Waynesboro Family YMCA, Waynesboro Generals, Waynesboro Landscape & Garden Center, Waynesboro Rotary Club, Willy's Ice Cream, Zeus Digital Theaters, the City of Waynesboro, Waynesboro Department of Parks & Recreation, and Waynesboro Department of Tourism.
SMAC, led by coach Scott Thacker, will enter 60 swimmers in the meet, expecting many personal best times from the athletes.  In addition to goals of fast times and high place finishes, some SMAC swimmers will be attempting to qualify for championship level meets later in the long course season.
Competing teams include the following:  Battlefield Area Star Swimmers–Madison; Coast Guard Blue Dolphins—Yorktown; Fork Union Aquatic Club–Fork Union; NOVA of Virginia Aquatics—Richmond;  Piedmont Family YMCA—Earlysville; Quest Swimming—Midlothian; Rappahannock Raiders Swim Club—Dahlgren; Richmond Racers—Richmond; Rockbridge Storm—Lexington; Stingray Swim Team—Spotsylvania; Virginia Gators—Charlottesville/ Harrisonburg; and Shenandoah Marlins Aquatic Club—Waynesboro.