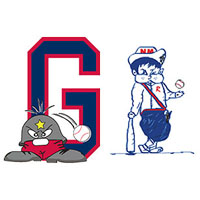 A two-out, two-run Tyler Bocock single in the seventh inning gave the Waynesboro Generals a 3-2 win over New Market on Sunday night.
The Generals (1-2) had led 1-0 going into the seventh after a strong outing by starting pitcher Chad Farmer (junior, Appalachian State), who gave up two hits and struck out five in six scoreless innings.
New Market (2-1) tied the game with two outs when Derek Peterson, who had reached on a throwing error by third baseman Ben Boykin (junior, College of Charleston), scored on a wild pitch by reliever Josh Thorne (freshman, Stetson).
An RBI double by Brandpn Gum made it 2-1 Rebels. Waynesboro put together a two-out rally in the bottom of the seventh when JoJo Woods (junior, Central Florida) doubled to advance Corbin Lucas (sophomore, Shenandoah) to third. Bocock lined a 1-1 pitch from Ryan Dittmar (0-1) to right-center to plate Lucas and Woods.
Thorne (1-0) closed out the game with scoreless innings in the eighth and ninth.
Bocock (sophomore, Stetson) finished the game 2-for-4 at the plate with 3 RBIs.
The Generals travel to Harrisonburg on Tuesday. On Wednesday, Waynesboro returns home to host rival Staunton at Linco Park at Kate Collins Field. First pitch is at 7 p.m. The game broadcast will be available online at www.WaynesboroGenerals.net.