Keep America Beautiful (KAB) and Waste Management (NYSE: WM) today announced that Keep Virginia Beautiful (KVB) will receive a 2014 Think Green® Grant. Keep Virginia Beautiful's Think Green® Grant is one of eight $10,000 grants awarded to KAB community-based affiliates across the country.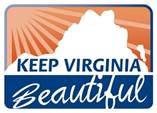 The Waste Management Think Green® Grants are part of the environmental services company's commitment to encourage the development and sustainability of environmental solutions that improve community environments. These merit-based grants support projects such as KVB's paper recycling bin initiative in the City of Richmond public schools.
"The number one item in a school's waste stream is paper," said Mike Baum, executive director of KVB. "This is where Keep Virginia Beautiful, with the help of Waste Management, comes in.  We are going to provide 'point-of-use' recycling bins specifically for classrooms to help increase paper recycling."
"Supporting communities by helping make them cleaner and improving the quality of life for residents is what our company – and Keep America Beautiful – is all about," said Robert Clendenin, area sales manager, Waste Management. "This Think Green Grant provides us with a great avenue to demonstrate how Waste Management and Keep Virginia Beautiful think green every day."
Waste Management has supported KAB programs for several years and is active in KAB's flagship programs such as the Great American Cleanup and America Recycles Day. Waste Management also supports the KAB/Ad Council public service advertising campaign – I Want To Be Recycled – that is helping educate people about the importance of recycling and motivating the occasional recycler to become an everyday recycler.
About Keep Virginia Beautiful
The mission at Keep Virginia Beautiful is to engage and unite Virginians to improve our natural and scenic environment. Our goals include becoming the leading statewide voice, providing a framework for improved communication and collaboration, cultivating and supporting sustainable programs, and engaging citizens by linking them to volunteer opportunities and information through 5 impact areas:  Litter Prevention, Waste Reduction, Recycling, Beautification, and Environmental Education.
About Waste Management
Waste Management, based in Houston, Texas, is the leading provider of comprehensive waste management services in North America. Our subsidiaries provide collection, transfer, recycling and resource recovery, and disposal services. We are the largest residential recycler and also a leading developer, operator and owner of landfill-gas-to-energy facilities in the United States. Our customers include residential, commercial, industrial and municipal customers throughout North America. To learn more visit www.wm.com.