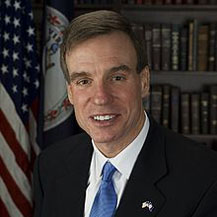 Warner for Virginia today announced the launch of Women for Warner, a dedicated group of women and men who have come together to support Sen. Warner's campaign. Lisa Collis, Sen. Warner's wife and former first lady of Virginia, will chair the group.
"I am very proud to support my husband, and our Senator, by chairing Women for Warner," said Lisa Collis. "Throughout his entire career, as a businessman and an elected official, Mark has fought to ensure that women get a fair shot at success. He wants our daughters to have the same opportunities that he had and I'm excited to talk about his record to people across the Commonwealth."
Women for Warner will reach all across the Commonwealth communicating Sen. Warner's long record of working on behalf of Virginia women.
Those interested in joining Women for Warner can sign up here.  Women for Warner bumper stickers and t-shirts are also available for purchase on the site. To view a list of Women for Warner leaders please click here.
With more than four in 10 families relying on women as the sole breadwinner, Sen. Warner has worked in the Senate to ensure that women receive fair pay for their work. That is why one of Sen. Warner's first actions in the U.S. Senate was to vote for the Lilly Ledbetter Fair Pay Act, which allowed women to hold employers accountable for discriminatory pay practices. Sen. Warner is also a cosponsor of the Paycheck Fairness Act that would help close the wage gap and give women more tools to fight pay discrimination.
Women on average have a higher student loan debt burden than men. Sen. Warner's bipartisan legislation will give individuals new tools to pay down their student loan debt.
Sen. Warner has supported efforts to increase women's access to health care, voting to end gender discrimination in setting insurance prices, and to require insurance companies to cover maternity and preventive care like mammograms, pap smears and contraception.  Sen. Warner also believes that women should maintain control over their own health and reproductive decisions.
Sen. Warner has also supported strengthening protections for women by co-sponsoring the Violence Against Women Act and co-introducing the Military Whistleblower Act, which provided more safeguards for victims of sexual assault in our armed forces. Sen. Warner also worked to close a loophole at the Dept. of Veterans Affairs to make it easier for female veterans to be treated for PTSD.