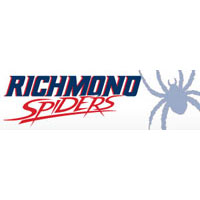 Wake Forest's Devin Thomas tipped in a shot at the buzzer as the Demon Deacons stunned the Richmond Spiders, 65-63, on Sunday afternoon at the Robins Center.
Richmond led by four points with 40 seconds remaining, but the Demon Deacons hit two three-pointers in the final thirty seconds to tie the game. After a missed drive by ShawnDre' Jones, Wake Forest raced up the court and Thomas tipped in a missed jumper by Codi Miller-McIntyre as the horn sounded.
The loss snaps Richmond's (7-5) four-game win streak, the Spiders' unbeaten resume at home. Wake Forest (7-6) won its second in a row in the series, with both wins coming in dramatic fashion after last year's game went to overtime.
"It was a great college basketball game," head coach Chris Mooney said. "I thought that we played really well in the second half. Give a lot of credit to Wake Forest. We needed to close out the game and they found a way to win. We battled. There were some good things that came from this, but we need to continue to work hard."
Sophomore T.J. Cline scored a career-high 22 points with a career-best 9-of-12 shooting from the floor. Senior Kendall Anthony notched his 19th career 20-point game, going for 21 points on nine two-point buckets. He also grabbed three rebounds and had two steals.
Junior Deion Taylor racked up a career-high 10 rebounds, including three offensive boards. Junior Terry Allen had eight boards and six points, while Trey Davis swiped played well defensively with three steals, a block and three assists.
Richmond outscored Wake Forest, 40-28, in the paint, and the Spiders also held the edge in shooting percentage (46.6-43.1) and turnovers (13-10). Richmond shot 50 percent (15-of-30) in the second half and hit all seven second-half free throws.
Miller-McIntyre led Wake Forest with 17 points, while Dinos Mitoglou scored 11 points on three treys.
The story of the game was the way Richmond played in the second half. UR trailed by eight at the half and by 10 after Wake hit a bucket to open the second half, but the Spiders held the Demon Deacons scoreless over the next six and a half minutes, forcing five Wake turnovers as part of a 9-0 run to bring the margin to within one point.
After a jumper from ShawnDre' Jones tied the game at 46, Anthony took a loose rebound all the way down for a fast-break layup plus a foul and a made free throw to give the Spiders their first lead of the second half, capping off another 9-0 run. Over a stretch of five and a half minutes, the Spiders hit seven consecutive field goals to power back into the game.
After two more tie scores, Anthony nailed a jumper from 14 feet on the right elbow to put the Spiders up 59-57 with just over 90 seconds left.
Wake offered its 13th turnover of the game on its next possession and a missed three by the Spiders led to a fast-break opportunity for Wake's Greg McClinton, but he put it too hard off the glass. UR's Allen collected the rebound, got fouled and hit his two resulting free throws to take the four-point margin with just over 40 seconds remaining.
Mitoglou's three with 34 seconds remaining cut the margin to one, but Allen came open on the ensuing in-bound play for a wide open dunk. Miller-McIntyre then hit a fall-away three that banked off the glass to tie the game with 20 seconds remaining. Jones drove the lane for the Spiders, but his runner rimmed out and set up Wake Forest's winning basket.
Richmond will play its final non-conference game of the season at home next Wednesday afternoon with a home contest against Northeastern. Opening tip is scheduled for 4 p.m.