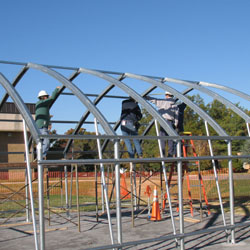 Volunteers from Dominion Virginia Power are helping to build a greenhouse for Woodrow Wilson Rehabilitation Center. The greenhouse will help students with disabilities at the Center learn about appropriate work behaviors and will introduce them to a possible career option. The greenhouse is being provided by the WWRC Foundation, but required assembly.
"Thanks to the volunteers from Dominion Virginia Power, we did not have to pay for the assembly and were able to put our resources toward the purchase of a larger greenhouse," WWRC Foundation Executive Director Rebecca Lamb said.
The Dominion volunteers have spent nearly a week working on the greenhouse installation as part of their Putting Our Energy to Work for the Environment service program. The greenhouse qualifies as an environmental project because it will run entirely on solar and passive solar energy.
"The greenhouse will not only provide a job training opportunity for our students, but will also be a source of fresh produce that will be served in the campus dining hall," WWRC Director Rick Sizemore said.
Student will grow produce in the greenhouse as well as flowers that they will plant across the WWRC campus.
Chartered in 1960, the WWRC Foundation has raises funds to support the Woodrow Wilson Rehabilitation Center. The WWRC is a national leader in the field of medical and vocational rehabilitation and assists 3,000 Virginians transition to employment and independence each year.
For additional information or to make a charitable gift, call 540-332-7452 or visit www.wwrcf.org.