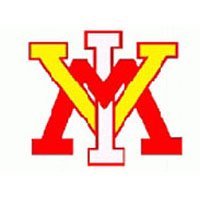 VMI's quarterbacks combined for three touchdown passes, but the secondary countered with three interceptions as VMI concluded its final full scale scrimmage of spring drills on a beautiful Saturday afternoon at Foster Stadium in Lexington.
Redshirt freshman quarterback Ryan Swingle completed 8 of 13 passes for 106 yards and two touchdowns and redshirt freshman quarterback Alex Cobb completed on 11 of 21 passes for 151 and a touchdown to key the quarterback play.
The defensive standout gem was turned in by redshirt junior outside linebacker Chris Copeland who stepped in front of a John Burton swing pass and raced 12 yards for a touchdown. Cobb was also intercepted twice during the afternoon by junior safety Alex James and senior cornerback James Fruehan.
Senior running back Jabari Turner led the ground game with 48 yards on eight carries and scored on a one-yard touchdown plunge in the second drive of the scrimmage. Turner preceded his scoring rush with a 13-yard burst up the middle to the one yard line and set up a 12-play, 71-yard drive.
The Keydet offense also generated a touchdown drive on the first possession of the second half when Swingle connected with sophomore receiver Aaron Sanders who tiptoed down the left sideline for a 29-yard touchdown strike, capping a five-play 62-yard drive.
Sanders would lead all receivers with five catches for 70 yards and a TD catch while junior Sam Patterson added three catches for 69 yards and redshirt senior Doug Burton snagged three catches for 51 yards and a score.
The offense engineered scoring drives in two of the last three drives of the scrimmage as Cobb hit sophomore wide receiver Matthew Nicholson on a crossing pattern in the back of the end zone for a 10-yard touchdown pass and Swingle drilled a four-yard TD slant to Burton in a two-minute drill scenario and the last play of the 81-play scrimmage.
Junior linebacker Caleb Lindsey and junior defensive back Doug Moore each posted six tackles to lead the defensive charts and Moore added two pass breakups. Redshirt junior outside linebacker Travis Hawkins (7 yards) and senior inside linebacker Miller Williams (5 yards) each had sacks. Redshirt sophomore defensive tackle Joe Nelson had an active afternoon on the interior line with four solo stops and sophomore inside linebacker Darnell Ashton was credited with a 5 yard tackle-for-loss.
Redshirt senior defensive tackle John Washington was presented the "Iron Keydet" award for outstanding strength and conditioning during the past winter workouts and spring practice sessions.
Redshirt sophomore Hayden Alford did not play in Saturday scrimmage after sustaining a high-ankle sprain in the first scrimmage two weeks ago. Another QB, Burton, sustained a broken collarbone late in the scrimmage after completing three passes for 25 yards.
Local resident Micah Kestler, who attended many of the Keydet spring practices and cheered the team on, suited up for the last play of the scrimmage and scored on a sweep left rush, bringing the end to the afternoon activities.
VMI head coach Sparky Woods:
"I think the scrimmage went just like we thought it would. We wanted to get about 80 snaps and some kicking in there, and we were just trying to get some more plays on film to create game situations. We had some sudden change situations and that was good and we had some three and outs for the defense and that was good. We had a couple of drives that were positive. Everyone worked hard to get evaluated and we had beautiful weather and our signees were here today to see how they are going to fit on this team. I thought it was as good a day as we could have asked for."
"Chris Copeland made a huge game changing play with his interception and I thought Joe Nelson was active along the defensive front. I think we have some speed at outside linebacker and guys like Bradley Lipscomb and Logan Staib are going to be making plays. I thought our offensive line first unit looked pretty good – Emmanuel Cooper looked like he was strong and didn't give up a sack. I think our receivers are pretty talented. We have work to do at quarterback, but I think we have a better team".