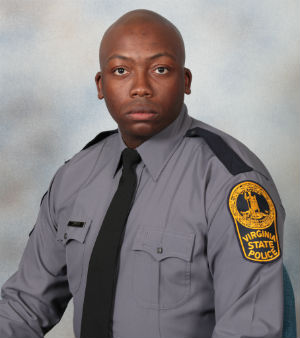 Virginia State Police are mourning the loss of one of its own today after Trooper Nathan-Michael W. Smith died following a traffic crash in Prince George County. Trooper Smith, 27, of Henrico, Va., becomes the Department's 61st sworn employee to die in the line of duty.
UPDATE: Virginia State Police Association Establishes Fund for Trooper Smith & Family Contributions can be made to the Virginia State Police Association Emergency Relief Fund. Make checks payable to the VSPA-ERF and notate. "Smith" on the memo line of your check.  Mail to VSPA. 6944 Forest Hill Ave., Richmond, VA, 23225.  Also, if anyone would like to make an online contribution through Paypal.  Visit www.vspa.org and click on Emergency Relief Fund.  It is important to put "Smith" in the note section of your Paypal contribution.
At 7:11 a.m., Monday (Sept. 21), Virginia State Police responded to a single-vehicle crash on Route 460 in Dinwiddie County. A 2004 Dodge Ram 1500 pickup truck was traveling east on Route 460, near Airport Street, when it ran off the right side of the road and struck the guardrail. The adult male driver was transported to Southside Regional Medical Center, where he died later Monday morning. The fatal crash remains under investigation.
One of the troopers at the Route 460 crash scene radioed the state police Richmond Division dispatch to request emergency assistance. When other troopers in the Area heard that request over the radio, they understood it to mean there was a trooper in distress, as well as the crash victim. Trooper Smith was among several troopers who immediately began responding to the scene to render aid.
While en route to the Route 460 crash scene at approximately 7:20 a.m., Trooper Smith took the Interstate 295 south exit ramp to Interstate 95 north in Prince George County. His Ford Taurus patrol vehicle ran off the left side of the ramp and crashed into the wood line. Trooper Smith was flown to VCU Medical Center. He died later Monday (Sept. 21) morning.
The state police Richmond Division Crash Reconstruction Team is investigating the Prince George County crash, which remains under investigation. It was later determined that no troopers were in distress at the Route 460 scene.
Trooper Smith was a member of the 121st Basic Session and graduated from the Academy June 6, 2014. The Suffolk, Va., native was assigned to the Richmond Division Area 7 Office, which includes the cities of Hopewell and Petersburg, and the counties of Dinwiddie, Nottoway and Prince George.
Trooper Smith was assigned for patrol to Prince George County. He is survived by his parents, wife and two children.