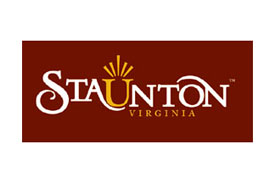 Staunton City Manager Steve Owen announces the selection of William "Billy" Vaughn as director of economic development. With a long and successful career in local and regional government in the Central Shenandoah Valley, Billy's service to the region ranges from chairmanships of committees of the Shenandoah Valley Partnership—the region's public/private economic development organization—to membership on the City of Staunton Planning Commission. The selection of Mr. Vaughn follows the retirement of Bill Hamilton, Staunton's economic development director for the past 26 years.
Vaughn, a long time Staunton resident and civic leader, comes to the City after serving as the Assistant County Administrator for Rockingham County, where he supervised the operations of economic development, planning and community development, technology, GIS, and parks and recreation. In addition to his public sector service, Billy's experience in the private sector contributes to a keen understanding of business recruitment and retention strategies. Vaughn's career in local and regional government spans over 40 years.
While leading Rockingham's economic development team, Vaughn's track record of success includes projects such as the development of Innovation Village @ Rockingham, SRI Research Facility and Miller-Coors Brewery in Elkton, as well as numerous expansions including Mount Crawford's WhiteWave Foods. Meanwhile, Vaughn has served two terms on the Staunton School Board and has been a long time member of the Central Shenandoah Valley Planning District Commission.
Among his peers, Vaughn is highly regarded for his collaborative spirit, project leadership and ability to establish lasting relationships among community partners. "Billy Vaughn's commitment to the City of Staunton clearly precedes his upcoming tenure as economic development director," says Owen. "Billy has served our city in many capacities over the years; his planning and business development skills are a natural fit, and we know he will hit the ground in a full sprint."
Mayor Carolyn Dull attests to Vaughn's aptitude for pursuing the City's economic development goals. "Billy has a history of working to preserve Staunton's historic character as well as spearheading projects that create wealth for this community," says Dull. "We are fortunate to have the practicality and dedication offered by such a reputable public servant."
Deputy City Manager Steve Rosenberg, in coordination with Assistant Director of Economic Development Courtland Robinson, will oversee the economic development office until Vaughn transitions into the City on September 15.