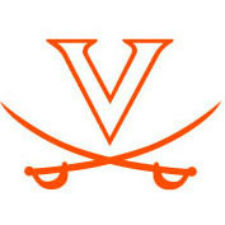 The third-ranked UVA women's soccer team opened the 2014 season Friday night with a 3-0 victory over Marshall in front of 1,757 fans at Klöckner Stadium. The victory extended the Cavaliers' school-record home winning streak to 19 games.
Juniors Makenzy Doniak (Chino Hills, Calif.) and Kaili Torres (Fleming Island, Fla.), and sophomore Alexis Shaffer (Cary, N.C.) scored for Virginia, while senior Morgan Brian (St. Simons Island, S.C.) notched two assists.
"We feel good about the win, but we left a lot out there in terms of the performance," said head coach Steve Swanson. "I think we can be a lot better. We had 26 shots tonight, but not many in goal. We got into good positions, but didn't create many quality chances. Give Marshall credit as they were organized, but we weren't as sharp as we needed to be."
The Cavaliers controlled possession throughout the first half, but didn't breakthrough until the 41st minute. Brian found Doniak at the top of the box who took a touch before placing a shot inside the far post for the first goal of the season for the Cavaliers. The advantage remained 1-0 at the half.
Virginia doubled the lead in the 57th minute as Brian found Torres open on the right flank. Torres directed a cross towards the far side that curled over the keeper and just inside the far post for her first goal in two seasons. Three minutes later Shaffer extended the lead to 3-0 as she collected a ball towards the top of the box and fired a shot that was partially deflected and found the far side of the goal. The Cavaliers almost got a fourth goal one minute later when Brian was tripped in the box, but Herd keeper Lizzie Kish saved Brian's penalty kick attempt.
Overall, Virginia outshot Marshall 26-1 and had a 9-1 corner kick edge. Sophomores Morgan Stearns (San Antonio, Texas) and Jessie Ferrari (Fairfax, Va.) combined to post the shutout in goal for the Cavaliers, while Kish made six saves at the other end for the Thundering Herd.
The Cavaliers' will continue their three-game homestand on Aug. 29 as they host Richmond. Game time is 5:30 p.m. and is the first part of a Virginia soccer doubleheader at Klöckner Stadium. The Cavalier men's team will open its season against Old Dominion in the second game of the evening at 8 p.m.