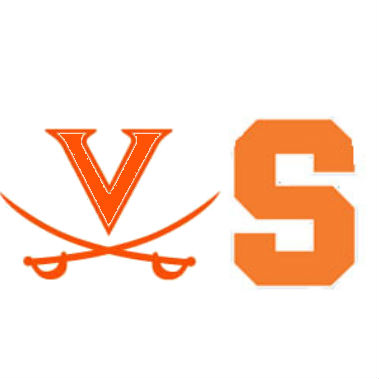 The UVA women's basketball team (12-3, 2-0 ACC) will play at No. 21 Syracuse (10-5, 0-2 ACC) on Sunday, Jan. 11 at 1 p.m. at the Carrier Dome.
The game will be broadcast on WINA-1070 AM with Channing Poole and Chelsea Wilson calling the action. Live streaming video for the game is available with the purchase of a 24-hour pass to the Syracuse Orange All-Access service, with a link available on the VirginiaSports.com website.
Syracuse opened conference play with tough back-to-back games, falling 85-74 against No. 4 Notre Dame and 74-72 at No. 13 Duke. Syracuse leads the ACC and is ranked sixth in the nation, averaging 19 offensive rebounds per game. The Orange are second in steals per game (11.9) and three-point field goals per game (7.7). Alexis Peterson leads the ACC in steals, averaging 2.67 per game and second in assists per game with 4.7. Brianna Butler leads the ACC in made-threes, averaging 3.0 per game, which ranks 12th in the nation. Briana Day is second in the ACC in rebounding, averaging 10.4, also ranking second with 2.87 blocked shots per game
Virginia is 3-2 all-time against Syracuse, but 0-1 in ACC games. Senior center Sarah Imovbioh (Abuja, Nigeria) scored 21 points with 13 rebounds in last season's 84-75 loss at the Carrier Dome.
Since Dec. 6, the Cavaliers have gone 7-1, including starting conference play with a 2-0 mark for the first time since the 2007-08 season.
The Virginia freshmen came up big in the Cavaliers win on Thursday night over Wake Forest.  Mikayla Venson (Arlington, Va.) scored 21 points, her second 20-point game of the season. Venson scored 16 points in the final 6:39 including all 10 of Virginia's points in the final 2:32. Venson combined with fellow first-years Aliyah Huland El (Randolph, N.J.) and Lauren Moses (Mount Holly, N.J.) to score Virginia's final 21 points in the game, helping to erase a nine-point deficit. Venson and Huland El made seven of Virginia's 10 three-pointers in the game.
Moses had a well-balanced game, scoring eight points on 4-of-5 shooting, with seven rebounds, two assists and two steals. Moses also had three blocked shots, including batting down a potential game-winning attempt by the Demon Deacons in the final 18 seconds of the game. It was Moses' third three-block game of the season.
Venson is averaging 17.0 points per game in ACC contests so far this season. In the last three games, Venson is shooting 45.4 percent overall, 47.8 percent (11-of-23) from three-point range and 9-of-11 (81.8 percent) from the free throw line.
Sophomore guard Breyana Mason (Woodbridge, Va.) is averaging 14.0 points per game in ACC contests. In the last three games, Mason is shooting 54.5 percent overall from the field and is 5-of-9 from three-point range (55.5 percent). Mason was 4-of-4 from the free throw line against Wake Forest, the third time this season she has been perfect while making four or more attempts. Mason has only missed two free throws in the last 13 games.
Virginia returns home next Thursday, Jan. 15, hosting Boston College at 7 p.m.
Single-game ticket prices for all home games are $10 for Reserved seating, $8 for adult General Admission and $6 for youth (18 & under), senior (60 & over) and UVa faculty/staff General Admission. Fans may purchase home game tickets through the Virginia Athletics Ticket Office online at VirginiaSports.com, by phone and in person. The Virginia Athletics Ticket Office is located in Bryant Hall at Scott Stadium and openMonday through Friday from 9 a.m. until 5 p.m. Telephone purchases can be made by calling 1-800-542-UVA1 (8821) or locally at 434-924-UVA1 (8821).