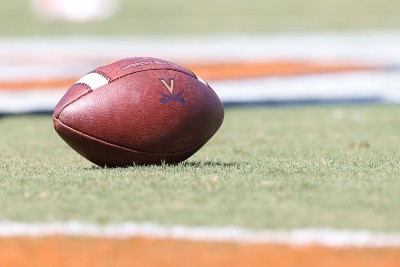 We know who won the battle in UVA football training camp for the starting tailback job: congratulations, former walk-on Perris Jones.
Head coach Tony Elliott released the depth chart for Saturday's season opener with Richmond on Tuesday, and the news on Jones was among the highlights.
Jones was named the starter at tailback after winning a battle in camp with junior Mike Hollins and Miami transfer Cody Brown.
Jones, a 5'8", 180-pound fifth-year senior has three career carries, all in garbage time in 2020, after gaining more than 5,000 yards in high school in Northern Virginia.
Jones turned heads in the 2022 spring game, taking a second-half handoff 75 yards for a touchdown.
We also know the two-deep on the offensive line, all new faces, after everybody from last year left, either to graduation or transfer.
It will be a mix of old guys and fresh meat, with Dartmouth transfer John Paul Flores and senior Derek Devine at the guard positions, sophomore Ty Furnish at center, former four-star recruit Logan Taylor at right tackle, the blind side for left-handed QB1 Brennan Armstrong, and true freshman McKale Boley at left tackle.
The backups on the O line: sophomores Colby McGhee at left tackle, Noah Josey at left guard, Jestus Johnson at center, and Charlie Patterson at right tackle, and junior Zach Teter at right guard.
Atop the depth chart at wideout are grad student Keytaon Thompson and juniors Dontayvion Wicks and Lavel Davis Jr., with fifth-year senior Billy Kemp IV listed as a No. 2.
The defensive line lists Miami (Ohio) transfer Kam Butler at the No. 1 slot at defensive end, with Columbia transfer Paul Akere at No. 2.
The other two line positions are nose tackle and defensive tackle – with junior Jahmeer Carter ahead of South Carolina transfer Devontae Davis and junior Olu Agunloye at the nose, and senior Aaron Faumui ahead of junior Ben Smiley at defensive tackle.
Good quality depth there on the D-line.
Chico Bennett Jr., who missed last season with a torn ACL after transferring in from Georgia Tech, is No. 1 on the depth chart at bandit linebacker, ahead of Michigan State transfer Jack Camper.
The ACC's leading tackler a year ago, Nick Jackson, is back at middle linebacker, and James Jackson, a sophomore, is No. 1 at weakside linebacker, with juniors Josh Ahern, Will Stewart and D'Sean Perry also on the depth chart.
Grad student Anthony Johnson and junior Fentrell Cypress are the starters at the corners, with grad student Darrius Bratton at the spur position, and sophomores Lex Long and Jonas Sanker at the safety spots.