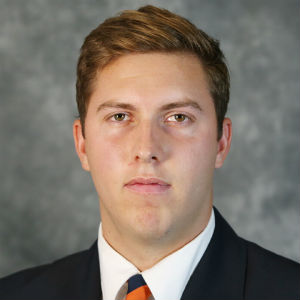 UVA senior quarterback Connor Brewer is playing for his fourth head coach, fourth offensive coordinator, his fourth strength coach.
It seems like forever ago that he led his high-school team to three state championships and a 41-2 record on the way to being an ESPN 150 prospect and one of the top quarterback recruits in the country.
Brewer signed with Texas out of high school, transferred to Arizona after a single redshirt year in Austin, then moved across the country to Virginia last summer.
After throwing for 7,574 yards and 100 touchdowns in a storied high-school career at Chaparral High School (Paradise Valley, Ariz.), Brewer has thrown all of eight passes in his college years, all last year at Virginia in mop-up duty.
But when Bronco Mendenhall was hired to replace Mike London last December, he made it clear to Brewer and incumbent starting quarterback Matt Johns that he intended to open the QB job up in the spring.
And at the end of the spring, Mendenhall told reporters that he hadn't yet settled on a starter, before former East Carolina quarterback Kurt Benkert announced his intention to transfer to UVA.
So it's now a three-man race to see who takes the snaps in the first quarter against Richmond in the season opener on Sept. 3.
For Brewer, after his long odyssey literally spanning a continent in search of live-game action, that's all he can ask for.
"This competition is definitely not my first. It's my last camp. I've been a lot of places. I'm excited that the coaches gave me an opportunity in the spring to compete, and now in the fall camp I get another opportunity to compete for that starting job. I haven't had that opportunity too many time in my career, so I'm taking the most out of it. I'm just trying to make the most of it," Brewer said on the eve of the opening practice of fall camp on Friday.
Brewer likes the system being put in place by new offensive coordinator Robert Anae, who came from BYU with Mendenhall.
"The system is great. It's definitely something I've been used to. It's kind of a mix between what Arizona and Texas did, some read-option, some spread stuff. So I feel really comfortable with it. The coaches have done a great job of finding what our strengths are as a team, as an offense, and kind of playing to those strengths. I think this fall camp is going to be crucial to putting those pieces together for the season," Brewer said.
It has helped Brewer to have had a full season and then a full spring to get acclimated to the personnel.
"Just getting the lay of the land, getting to know these receivers, these running backs, the people I'm playing with, I think it really helped having that spring under me, if only to help me to do better in this fall camp," said Brewer, who feels he is in the best shape of his life under the tutelage of new strength and conditioning coach Frank Wintrich.
"With this new staff that came in, this is my fourth strength staff. This is the hardest and toughest and best training staff I've ever had. Everyone has lost body fat, everyone has gotten faster, more agile, stronger. It's been a crazy transformation. Personally for myself, I know I have transformed into a whole different player even since last spring. I'm excited to get out there and show it off," Brewer said.
Story by Chris Graham