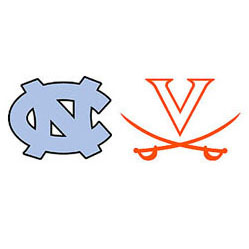 For the umpteenth time, UVA dominated an opponent statistically. For the fourth time this season, an opponent outplayed statistically walked away with the W.
Backup quarterback Mitch Trubisky hit T.J. Thorpe with a 16-yard touchdown pass with 4:06 to go, and Tar Heels coach Larry Fedora made the ballsy call of the season, dialing up an onside kick on the ensuing kickoff that Carolina was able to recover and use to bleed the clock, enabling UNC to hold for the 28-27 win in front of 45,200 fans at Scott Stadium in Charlottesville, Va.
Virginia (4-4, 2-2 ACC) led 14-0 after its first two possessions, on a 31-yard touchdown pass from Greyson Lambert to Canaan Severin and a 2-yard TD run by Kevin Parks. The Heels (4-4, 2-2 ACC) stormed back quickly, on a Marquise Wlliams 52-yard touchdown run and a Williams 57-yard TD pass to Mack Hollins, who also hauled in a 63-yard scoring pass in the second quarter.
UVA went into the break up 24-21 after getting a 5-yard TD pass from Lambert to Parks and a 31-yard field goal by Ian Frye, who extended the lead to 27-21 with 5:39 to go in the third with a 37-yarder. But the Cavaliers left points on the field on their first drive of the third quarter when Lambert was intercepted on a third-down pass inside the UNC 5, and again in the fourth on what had the looks of a game-sealing march down the field when Lambert was picked off on a poorly-thrown screen pass.
Defensive end Nazair Jones returned that pick to the UVA 38. A 27-yard pass from Williams to Ryan Switzer moved the ball into the red zone, but when Williams was sacked on a second-down play on which his helmet came off, he had to leave the game for one play by rule, forcing the insertion of Trubisky into the lineup for the biggest play of the game to that point.
Zubisky calmly found Thorpe in stride down the seam for the easy touchdown. Then after recovering the onside kick, the Heels were able to run out the clock, aided by an illegal substitution penalty on a fourth-down play with 1:17 to go that put Carolina into the victory formation.
Virginia outgained UNC 443-374, but got just two touchdowns on its four red zone drives and committed two turnovers.
Lambert, making his first start since the BYU game on Sept. 13, was 20-for-40 passing for 261 yards, but had just 40 yards passing after halftime. Parks gained 111 yards on 26 carries for Virginia, which ran for 159 yards on 43 carries as a team.
Williams was 15-of-28 passing for 259 yards and added 49 yards on the ground.