Matt Hagan is blessed. The NHRA Funny Car driver who lives in Christiansburg said it was nice to just sleep in his own bed last night, get up feed the cattle on his 1000 acre farm and hop in the car to make the two hour drive to Thunder Valley in Bristol.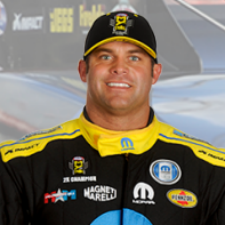 After all, he won in Thunder Valley two years ago on Father's Day in an emotional win but didn't partake in the ceremonial spoils of the post victory celebration because of a thunderstorm.
"Winning this race was bigger than winning Indy," replied Hagan. "It was emotional.  I'd like to win it again."
Hagan ranks Bristol in the elite of tracks. "Pomona is magical but historical and Denver is amazing. Bristol is just so cool."
The driver of the Mopar Express Lane/Rocky Boots Dodge Charger R/T enjoyed a third place finish in the 2016 Funny Car points chase after setting a career best speed of 335.57 mph at Topeka (KS) in 2016. But Hagan is still hungry for more despite a first place points finishes in 2011 and 2014.
Despite all the success, Hagan still sees the beginnings of his career and where the credit of support goes; to his dad in the early stages of his fledgling drag racing career. "He enjoys seeing what I like to do," said Hagan with a smile.  "He and his partner put a lot of money and time in, in the early going and then Don Schumacher came in."
Even with the support of his drag racing career, Hagan says he's asked for a more regular job with his dad's business but it hasn't panned out.
"I keep asking him for a job," Hagan said jokingly, "but he enjoys me running. I think that we've proven ourselves and along the line, we've got some sponsors." Hagan adds that his biggest supporter, knows the "bravery side" and "on the smarts, but he sells cars for a living."
For Hagan, he's just blessed all around.
"I'm just blessed to have (dad) in my corner and along the way, break some more records."
Hagan will look to bring another Father's Day celebration to his father and Don Schumacher Racing this weekend at Thunder Valley as he will attempt to qualify in Friday and Saturday sessions and hope to make the final cut in the eliminations finals on Sunday.
By Rod Mullins/Augusta Free Press