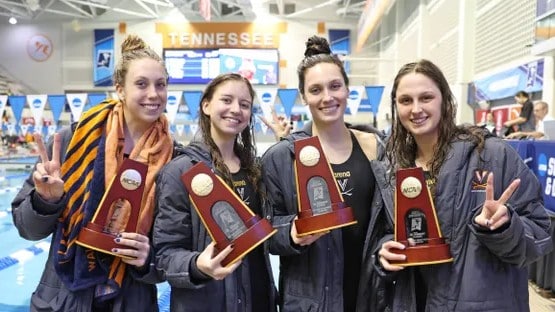 The Virginia women's swimming team won its third straight NCAA championship, sweeping all five relay races and winning six individual NCAA titles.
The UVA team is the fifth to win three consecutive women's national titles.
The national title is the 32nd for Virginia Athletics.
Kate Douglass led Virginia with three individual wins, winning the 200-yard IM, 100-yard butterfly and 200-yard breaststroke, all in NCAA, American and U.S. Open record times. Douglass, a senior, won seven individual NCAA championships in her career, sweeping all three events in 2022 and 2023. She closed out her NCAA career with a 2:01.29 to win the 200-yard breast on Saturday.
Sophomore Gretchen Walsh won her second NCAA title of the meet and defended her 100-yard freestyle win from 2022. Walsh finished in a time of 45.61,.80 seconds ahead of the field and just hundredths of a second off Simone Manuel's NCAA record of 45.56.
Junior Alex Walsh was leading the entire race in the 200-yard butterfly but was just out-touched at the wall by Emma Sticklen of Texas. Walsh set a UVA record with her time of 1:50.23 to finish second in the event. She finished the week with a NCAA title in the 400-yard IM and runner-up finishes in the 200-yard IM and 200 fly.
UVA's relay team of Douglass, A. Walsh, junior Maxine Parker and G. Walsh, respectively, closed out the meet with an American, NCAA and US Open record time of 3:05.84.