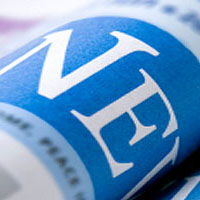 Sweet as Nature Bakery owner Donna May knows that college students often have good intentions for eating right, but the pace of college life can easily get in the way of making healthy choices at the checkout line.
That's why when her line of healthy cookies debuted in the sustainability section of the Grace Street P.O.D. (Provisions on Demand)Market at the Student Success Center on the James Madison University campus in September she decided to make it easy for busy coeds. Her affordable grab-and-go cookie packets tout the purity and health-conscious aspects of the ingredients, but her product line also gives students a solid message about making better food choices. "You CAN EAT these!" "No Freshman 15," "Energy 2 Burn" and "No Guilt" are just a few of the slogans May uses to help students understand that quick snacks don't have to be empty calories.
May opened Sweet as Nature Bakery in 2013 after spending twenty years in the corporate management world. For more than two decades she had been baking a variety of items on request from huge wedding and specialty cakes, cupcakes, cookies, breads and pies, and decided to take on marketing her carefully tested wholesome, healthier cookies as a main focus. She still caters special events and prepares more "decadent" desserts when asked, but her "you CAN EAT these" cookies have become a mainstay at the Tuesday Harrisonburg Farmers' Market, the JMU campus farmers' market and the friendly city food co-op since she opened.
Sweet as Nature Bakery takes pride in creating high quality, healthy cookies made in small batches in May's Virginia Department of Agriculture and Consumer Services certified and ServSafe licensed kitchen in Fulks Run. She currently offers four types of cookies: Crazy Cranberry, Bouncing Blueberry, Cravin' Raisin and O'Chocolate which she delivers fresh to the P.O.D. market each Monday and Thursday. All feature USDA approved nutritional labels.
For more information on Sweet as Nature Bakery and the you CAN EAT these cookie line, visit www.sweetasnature.com. A list of outlets where the cookies can be purchased, as well as a convenient online ordering process are available on the website. Contact Donna May for special orders and catering offerings, (540) 271-3622, [email protected].