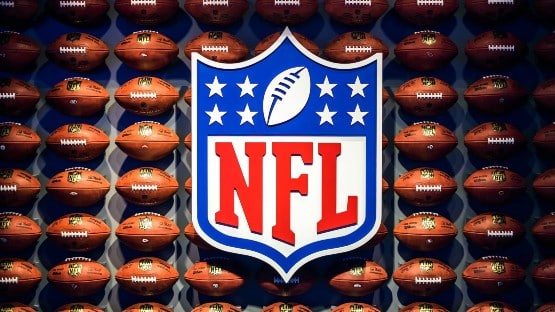 After 18 grueling weeks of the regular season, the NFL Playoffs kick off with Super Wildcard Weekend, as there are a total of six games on tap — two Saturday, three Sunday and one more Monday — to whet your postseason appetite.
The top two teams in the league — AFC No. 1 seed Kansas City (14-3) and NFC top dog Philadelphia (14-3) — each received home-field advantage and a first-round bye, and will get an extra week to get ready for the divisional round next weekend. Both the Chiefs and Eagles will host the lowest-remaining seed in their respective conference, with the other two matchups to be determined accordingly.
Andy Reid's Chiefs are the current favorites to win Super Bowl LVII (according to Caesars Sportsbook), followed by Buffalo, San Francisco and Philadelphia (see each team's odds and the entire playoff schedule below).
It all starts at 4:30 Saturday afternoon in San Francisco, when the NFC's second-seeded 49ers (13-4) host No. 7 Seattle (9-8). The Niners, a 9-point favorite, are arguably the hottest team in football, winners of their last 10 games. Kyle Shanahan's squad hasn't lost since the weekend before Halloween.
San Francisco swept the Seahawks in the regular season (27-7 at home on Sept. 18, 21-13 at Seattle on Dec. 15). The 49ers are putting up 365.6 yards per game (fifth in the NFL), and are also the league's top defensive team, holding opponents to 300.6 yards per game. They also possess an NFL-best, plus-13 turnover differential.
Rookie Brock Purdy is the third different 49ers quarterback that the Seahawks have faced. Opening Day starter Trey Lance suffered a season-ending injury in the first meeting against Seattle, as backup Jimmy Garoppolo finished the game, then was lost to injury himself later in the season.
Purdy has several talented weapons to get the ball to, including Brandon Aiyuk, Deebo Samuel and George Kittle, while star running back Christian McCaffrey was acquired from Carolina the week of the Chiefs loss and has played a large role in the winning streak ever since. He's gone over 100 total yards in six of those 10 games, and has found the end zone 10 times (6 rushing, 4 receiving).
Seattle was the last team to punch its ticket to the postseason, and did so with the help of Detroit's win at Green Bay Sunday night. The Seahawks have won two in a row since dropping five of their previous six.
Veteran QB Geno Smith has a pair of 1,000-yard receiving targets in DK Metcalf and Tyler Lockett, while Kenneth Walker III has had a memorable rookie season, rushing for 1,050 yards and 9 touchdowns.
On Saturday night at 8:15, the AFC's fourth-seeded Jaguars (9-8) play host to the fifth-seeded Chargers (10-7). LA is a slim 1.5-point favorite.
Jacksonville took the lone regular-season meeting between the two, winning 38-10 in Los Angeles back in Week 3.
The Clemson connection of quarterback Trevor Lawrence and running back Travis Etienne has turned things around in Duval County, as the Tiger duo led the Jags to five consecutive wins to conclude their season.
Lawrence ranks in the top 10 in passing yards (4,113) and passing touchdowns (25), while Etienne is ninth among NFL running backs with 1,125 yards on the season. Wideout Christian Kirk leads the team with 1,108 receiving yards and has emerged as a big-play option.
Chargers signal caller Justin Herbert, meanwhile, ranks second in the league behind Patrick Mahomes (5,250) in passing yards with 4,739. Austin Ekeler remains one of the game's most deadliest ball carriers, as he's racked up over 1,600 all-purpose yards and 18 touchdowns on the year.
Sunday's slate of games begins at 1 p.m. with Miami (9-8), the No. 7 AFC seed, traveling to No. 2 Buffalo (13-3), where the Bills will be a heavy 13.5-point favorite.
The two teams split during the regular season, with each winning a close one on its home turf — the Dolphins won 21-19 in Miami in Week 3; the Bills won 32-29 in Buffalo in Week 15.
Miami starting quarterback Tua Tagovailoa has already been ruled out, as has his backup, Teddy Bridgewater, leaving the unenviable task up to third-string QB Skylar Thompson, a 7th-round pick out of Kansas State.
Sure, Thompson will have Tyreek Hill, the league's fifth-highest receiver (1,710 yards), and Jaylen Waddle (1,356) to throw the ball to, but it'll be in freezing temperatures in Orchard Park in a rowdy environment against the league's sixth-best defense.
The Bills also boast the second-best offense in the NFL with 397.6 yards per game. Josh Allen (4,283 passing yards) and Stefon Diggs (1,429 receiving yards) have been magical all season. Buffalo should also have some extra motivation, with injured teammate Damar Hamlin recently returning home from the hospital after suffering cardiac arrest on the field a few weeks back in Cincinnati.
At 4:30 Sunday, the NFC's third-seeded Vikings (13-4) welcome in the sixth-seeded Giants (9-7-1). Minnesota is favored by three points. The Vikings beat New York on a walkoff, 61-yard field goal by Greg Joseph a few weeks back on Christmas Eve in Minneapolis.
Kirk Cousins has thrown for 4,547 yards (fourth in the league), with the majority of those going to the NFL's top receiver, Justin Jefferson (1,809 yards).
Minnesota won eight of its first nine games of the season, but has gone just 5-3 since.
Giants quarterback Daniel Jones has shown the ability to run the ball successfully with 708 yards and 7 touchdowns, while Saquon Barkley went for 1,312 yards on the ground this season (fourth in the league), which was more than any other running back still alive in the playoffs.
In Sunday's nightcap, the third-seeded Bengals (12-4) will host AFC North rival Baltimore (10-7), the No. 6 seed, for a second-straight week.
Each team won its regular-season home matchup, as Cincinnati defeated the Ravens in the regular-season finale this past Sunday, 27-16, while Baltimore won in Week 5, 19-17.
The Ravens will be a 8.5-point underdog without the services of both starting quarterback Lamar Jackson and his backup, Tyler Huntley, leaving the job up to rookie Anthony Brown out of Oregon.
Baltimore will have running back J.K. Dobbins back in the mix, one of several starters who sat out for Week 18.
On the other sideline, the defending AFC champion Bengals have been on a roll, winners of eight in a row and 10 of their last 11. Joe Burrow has thrown for 4,475 yards (fifth in the league) and 35 touchdowns (tied for second), with Ja'Marr Chase and Tee Higgins both going over the 1,000-yard plateau.
Tom Brady and the NFC South de-facto champion, fourth-seeded Buccaneers (8-9) wrap up the Wildcard round on Monday night as a 2.5-point home underdog against No. 5 Dallas (12-5).
The Bucs beat the Cowboys, 19-3, in the season opener on Sept. 11, but had to fight to win their division and wound up with a sub-.500 record. Nevertheless, Tampa Bay is the home team and the records can all be thrown out once toe meets pigskin on Monday night.
The 45-year-old Brady continues to put up big numbers, going for 4,694 yards (third in the NFL) and 25 touchdowns (tied for eighth) during the regular season.
His top target Mike Evans went off for 207 yards and three touchdowns in Tampa's New Year's Day win over Carolina, and the Cowboys' defense will have to try and limit his production.
Dallas prides itself on its pass rush and has accumulated 54.0 sacks on the season (third in the league), but should have a more challenging time against Brady's quick releases.
The Cowboys looked sloppy in their regular-season finale against Washington last week, picking up just 182 total yards and 10 first downs in a 26-6 loss to the Commanders.
Dak Prescott looked below-average and Ezekiel Elliott and Tony Pollard combined for 29 yards on 15 carries, while CeeDee Lamb was a lone bright spot with a team-high 52 yards and a touchdown.
The Cowboys have been known to stumble down the stretch, going 4-11 in the playoffs since their last Super Bowl victory in the 1995-96 season.
NFL Playoff Schedule
Wildcard Round
Saturday
Seattle at San Francisco, 4:30 p.m. (FOX)
LA Chargers at Jacksonville, 8:15 p.m. ( NBC)
Sunday
Miami at Buffalo, 1 p.m. (CBS)
NY Giants at Minnesota, 4:30 p.m. (FOX)
Baltimore at Cincinnati, 8:15 p.m. (NBC)
Monday
Dallas at Tampa Bay, 8:15 p.m. (ABC/ESPN)
Divisional Round
Saturday, Jan. 21-Sunday, Jan. 22
TBD
Conference Championships
Sunday, Jan. 29
TBD
Super Bowl LVII
Sunday, Feb. 12
AFC champion vs. NFC champion, TBD
Super Bowl Odds
Odds to win Super Bowl LVII outright
As of Jan. 13
Kansas City +340
Buffalo +400
San Francisco +450
Philadelphia +550
Cincinnati +800
Dallas +1300
LA Chargers +2200
Tampa Bay +2800
Minnesota +3000
Baltimore +4000
Seattle +5000
Jacksonville +5000
NY Giants +5000
Miami +6000
To Win AFC
Kansas City +160
Buffalo +200
Cincinnati +420
LA Chargers +1100
Baltimore +1900
Jacksonville +2200
Miami +3500
To Win NFC
San Francisco +170
Philadelphia +175
Dallas +550
Tampa Bay +1100
Minnesota +1200
Seattle +2800
NY Giants +2800