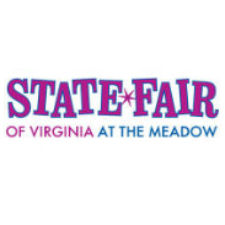 The State Fair of Virginia is steeped in tradition, but there are plenty of new features that could become fairgoer favorites.
If you're hungry for something new, this year's signature sandwich might satisfy that craving. The Piggyback Burger is a juicy hamburger topped with pulled pork barbecue and a crispy fried onion ring. It will be available from Fun Time Foods on the fair's Festival Loop. Another food vendor is taking a quintessential Southern favorite—the Virginia ham biscuit—and deep-frying it. This new treat can be found at D&J Concessions, also on the fair's Festival Loop. D&J also will offer the Twinx, a Twinkie stuffed with a Twix candy bar, then wrapped in bacon, battered and fried, and topped with chocolate syrup and powdered sugar.
For fairgoers looking to up their thrill quotient, there are new rides on the Midway Madness, presented by the Virginia Lottery, and the Virginia529 Kidway. Adults can try the wild, spinning Hang Ten; the Sea Ray, a giant swinging ship; or the Yo-Yo, which dangles riders in swings and spins them through the sky. Kids can ride the Happy Swing, which resembles a giant porch swing and rocks a dozen riders to and fro. Or they can try Jump Around, which includes themed vehicles circling around and bouncing up and down. The vehicles may resemble frogs, Angry Birds or even circus cars.
For tinier tots, amusement contractor Deggeller Attractions has added a new area in Kidway called Kids' Corral. It will feature coin-operated, farm-themed rides for children who aren't quite tall enough to enjoy the other Kidway rides.
Thirsty fairgoers can wet their whistles with Virginia craft beers, including the fair's own signature brew, Virginia Midway. Brewed by Goochland County-based Midnight Brewery, Virginia Midway is an unfiltered wheat beer made with malted wheat, local honey and Cascade hops. Virginia Midway and other Virginia craft beers will be on tap at two locations on the property throughout the fair's 10-day run.
The State Fair Commercial Wine Competition returned this year after a brief hiatus, and winning wines will be on display in the Meadow Pavilion. Virginia wineries will offer tastings and sales in the pavilion as well.
Competitive ranch sorting is another new attraction this year. During the Oct. 5 event, teams of two riders will move a herd of 10 cattle from one pen to another—in numerical order, in less than 60 seconds. Returning to the fair this year on Oct. 4 is competitive team penning, during which teams of three riders separate specific cows from a herd and move them into a penning area in under 60 seconds. This event is scheduled for Oct. 4.
Other new competitions feature hay bales and Christmas trees. In the ffa and 4-H Giant Hay Bale Competition, student groups will decorate large round bales of hay so they resemble farm animals and farm equipment. "Virginia's Bounty" is the theme of the inaugural Decorated Christmas Tree Competition, and participants are being encouraged to use Virginia agricultural products and other natural materials when trimming fresh-cut trees donated by members of the Virginia Christmas Tree Growers Association.
Returning after a two-year hiatus are the crowd-pleasing pigs of Rosaire's Royal Racers. Presented by Call Federal Credit Union, the swines will trot around a track several times a day throughout the fair. And the action-packed Richmond Drives Demolition Derby, presented by The Richmond Times-Dispatch and Richmond.com, will make a return engagement, this year for two nights instead of one, on Oct. 4 and 5 in the fair's Thrill Pit.
Black Tie & Boots, a fundraising gala for the State Fair scholarship program, is making a return this year as well. One-hundred percent of the event's proceeds will go to the scholarship fund. The VIP opening-night celebration will feature live music, award-winning Virginia wines and gourmet food.
This year's State Fair of Virginia will open Sept. 26 and run through Oct. 5. Information is available at StateFairVa.org.
General admission includes access to all concerts, performances, exhibits and demonstrations but does not include rides. Ride tickets and single-day Unlimited Ride Wristbands will be available for purchase at Ride Ticket Booths in the Midway and Kidway areas. Requirements for rides and some attractions include height, weight and whether a child must be accompanied by an adult. Those requirements will be displayed at each ride and attraction, as well as at the Midway Customer Service booth.
Ride tickets are $1 each or $20 for 25. Individual rides require two to six tickets.
A single-day Unlimited Ride Wristband will be available for $21 on Fridays, Saturdays and Sundays and $15 Monday through Thursday.
Visit StateFairVa.org/tickets for all available discounts and ticket options and to purchase tickets online. Single-day admission tickets are available at BB&T locations in the Richmond, Charlottesville, Fredericksburg and Petersburg areas; Martin's Food Markets in the Richmond, Ashland, Tri-Cities and Williamsburg areas; Call Federal Credit Union branches; and the Caroline County Visitor Center.
Parking at The Meadow Event Park is free.
The State Fair of Virginia is held each fall at its permanent home at The Meadow Event Park in Caroline County. The fair's mission is to increase agricultural and natural resource awareness and interest through educational programs, exhibitions and competitions in a fun, family-friendly setting.