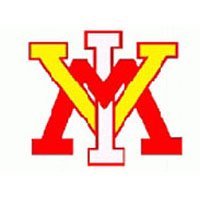 Deadlocked and scoreless through the first 63 minutes of a non-conference game with UNC Asheville, VMI got what proved to be the game-winning goal from junior Andrew Starnes in the 64th minute, lifting the Keydets over the Bulldogs 1-0.
Starnes, who hails from Fuquay Varina, North Carolina, collected a long pass from classmate Eric Friese. Starnes got around his defender and went one-on-one with the Bulldogs' keeper, Dan Jackson, depositing his shot by the left post. That goal proved to be the winner, despite several close calls by Asheville.
While the game was scheduled to be played at UNC Asheville's Greenwood FIeld, the contest was moved to nearby T.C. Roberson High School, which features an artificial surface. Freshman Campbell Wood was a three-year varsity letterwinner at T.C. Roberson.
Earning the first clean sheet of his career, junior Zach Kaplan made four saves in the game, including three in the second half. Several times down the stretch, Bulldogs pelted the VMI goal only to be turned away by Kaplan, while one shot went off the left post and another just over the crossbar. Jackson made five saves in goal for Asheville, but suffered the first loss of his season.
VMI (1-2-0) earned its fifth-straight win over the Bulldogs, despite being out-shot 15-12. Asheville ripped off eight shots in the second half, paired with seven in the first while VMI split its attempts between periods.
En route to the team's first shutout since a 1-0 win over UNC Asheville on Oct. 26, 2013, the Keydets took four corner kicks, all coming in the second stanza. Asheville (1-1-1) earned three, with two in the second half.
The Keydets were whistled offsides twice while Asheville was caught once. VMI committed 11 fouls as Asheville had eight. VMI's Hunter Morgan was booked for a yellow card in the 88th minute.
VMI is idle until next Friday when it hosts the Jay Sculley Memorial Tournament. Joining the Keydets at Patchin Field will be Liberty University, usc Upstate and Robert Morris University. Liberty and Robert Morris open the Tournament at 1 p.m., followed by the Keydets and usc Upstate at 3 p.m.