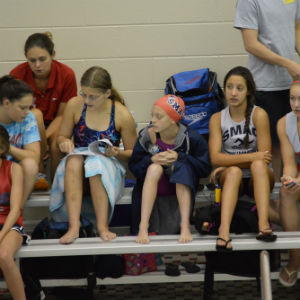 The Waynesboro YMCA's SMAC Swim Team competed in the Virginia Long Course Age Group Championships from July 24-27 in Christiansburg.
This was the final championship meet for 14 and under swimmers at the state level for the long course season. Long course swimming means all events are competed in 50-meter pools, which are the same length as Olympic swimming pools. All individual event swimmers in this meet had to achieve the Virginia Swimming Age Group qualifying standards.
The following SMAC swimmers competed in the meet:  Braelin Fauber (13), McKina Fitzgerald (14), Sarah Loomis (14), Davis McKellop (9), Ryan Mercer (10), Cameron Murie (13), Rachel Murie (11), Ella Pickering (13), Charles Schundler (10), Hanna Shifflett (12), Kristen Wagner (12), Emma Woodworth (12), and Ben Young (10).
SMAC finished second in the state overall for the girls' small team category and third in the state in both the boys' small team the combined boys' and girls' small team.  A small team is one with less than 100 swimmers overall. Points are awarded based on the swimmers place in the race. First through 16th place earn points with scoring going from 20 points for first place, down to one point for 16th place.  The three SMAC swimmers that scored individual points were Kristen Wagner, with 39 points (Girls 11-12: 10th 400 free, 15th 400 IM, 7th 200 free, 13th 100 fly, 5th 200 fly), Sarah Loomis with 28 points (Girls 13-14: 5th 1500 free, 16th 400 free, 6th 800 free) and Davis McKellop with 1 point (Boys 10&U: 16th 200 free).  Points were also scored by the Girls 11-12 relay team of Shifflett, Wagner, Woodworth and Rachel Murie and by the Boys 10&U relay team of McKellop, Mercer, Schundler and Young.
Highlights of the meet included: Loomis and Wagner both achieving multiple results that qualified them for Eastern (US) Zones and six swimmers (Fitzgerald, Loomis, McKellop, Shifflett, Wagner and Woodworth) achieving multiple best times at this meet.  On the opening day of the meet, which included the grueling 1500 meter free for 13-14 swimmers and the 400 meter free for 11-12 and 10&U swimmers, every SMAC swimmer participating set a best time.
The SMAC swim team is a Waynesboro Y program and practices at the Waynesboro Y, Augusta Health, and Ridgeview Park Pool. For more information regarding SMAC swimming, contact coach Norm Wright, director of competitive swimming at the Waynesboro Y, at 942-5107 or email him at [email protected].
For more information about SMAC, visit www.smacswimming.org.