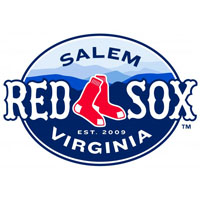 Kevin Heller hit a two run home run in the bottom of the tenth inning to give the Salem Red Sox a 7-6 victory over the Potomac Nationals Saturday night at LewisGale Field. Heller's second homer of the night came off of Robert Benincasa with Reed Grangnani on first. It's the Sox second walk-off win of the season.
Kyle Kraus got the win in relief for the Sox. Kraus pitched four innings without allowing an earned run. And with the bases loaded and no one out in the tenth, Kraus got out of it surrendering just one unearned run, setting up Heller's game winner in the bottom of the frame. William Cuevas started for the Sox, allowing six hits and five runs in six innings. P-Nats starter Matt Spann allowed five hits and two runs in five innings.
The scoring started in the first inning. Heller picked up his first RBI on grounder off of Spann's leg that shot into left field, scoring Bo Greenwell from second. The Nationals answered when Cole Leonida hit a two out, two run home run off of Cuevas to go ahead 2-1.
Heller's first home run tied the game in the fourth at two. In the fifth, the Potomac struck for three runs. Narciso Mesa doubled off of Cuevas. Two wild pitches later, Mesa scored to make it 3-2. Later in the frame back to back doubles by Oscar Tejada and Shawn Pleffner drove in two runs and it was 5-2 P-Nats.
The Red Sox struck back in the bottom of the sixth. Wander Suero walked Kevin Heller, then threw wild to first on a pick off attempt, allowing Heller to advance to third. A wild pitch allowed Heller to cut the lead to two. Then after two more walks, Matty Johnson tripled home two runs off new pitcher Gilberto Mendez to tie the game at five.
In the tenth, two infield hits and a bloop single loaded the bases for the Nationals. An error by Dreily Guerrero at short got a lone run home, but the Red Sox got out of it on a 5-2-3 double play.
With the win, Salem remains 4.5 games behind Myrtle Beach in the South division. Salem and Potomac return to LewisGale Field tomorrow at 4:05. Cody Kukuk takes the ball for the Sox while Dakota Bacus goes for the Nationals.