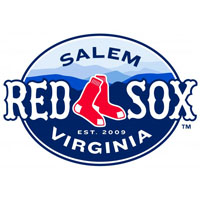 The Salem Red Sox tied a franchise record with four triples and overcame multiple deficits to surpass the Hillcats 8-5 on Thursday night at LewisGale Field.
Ryan Dent and David Chester each hammered RBI triples, while Aneury Tavarez pounded a pair of RBI triples to help the Sox prevail. Righthander Justin Haley dominated in four scoreless innings out of the bullpen, shutting down Lynchburg down the stretch to earn his first career save.
Down 5-3 at the midway point, the Sox snuck past the Cats for good in the last of the fifth, scoring three times to take a 6-5 advantage. Chester and Tavarez each smacked RBI three-baggers in the frame, with the latter giving Salem the lead for good. Tavarez then pounded his second triple in the seventh inning to add an insurance run.
Chester went 4-for-5, with two singles, a triple, and a solo homer, his third of the year and his second in as many games. Needing a double for the cycle in his fourth at-bat, Chester smoked a line drive off the wall in left, but hit it too hard to secure the necessary two-base hit. Lynchburg left-fielder Josh Elander fielded the carom cleanly and threw Chester out at second base, preventing him from achieving the cycle.
Salem fell behind 1-0 in the first inning but tied it on Chester's solo blast in the second and took a 3-1 lead in the third, breaking the tie on Dent's triple. In the fourth, Lynchburg batted around and scored three times to take a 4-3 lead, but stranded the bases loaded. The Hillcats added a run to their edge in the fifth, before the Sox rallied again, asserting an advantage that would not be relinquished.
Neither started made it through the fourth inning, with Salem's Pat Light surrendering four runs on seven hits over three and two-thirds in his carolina league debut. Lynchburg's Andrew Waszak lasted three and a third, walking four and yielding three hits and three runs. Both starters received no-decisions.
In relief, Kyle Stroup picked up the win, allowing just one run in one and a third. And of the six pitchers who threw in the game, Haley was the lone hurler that did not allow a run. Haley retired 12 of the final 13 men he faced to take the Red Sox across the finish line.
While Lynchburg lost its fifth straight game, Salem earned its sixth win in its last seven tilts.
The Red Sox will seek a sweep of the three-game series on Friday night, with Brian Johnson, the reigning carolina league Pitcher of the Week, scheduled to make his fifth start of the season. Patrick Scoggin, a former Virginia Tech right-hander, will make the start for Lynchburg, with first pitch scheduled for 7:05.