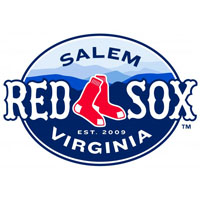 The Salem Red Sox collected only four baserunners and were shut out by the Winston-Salem Dash 6-0 Saturday night at LewisGale Field.
It only took two batters for Winston-Salem (16-27) to jump out to a lead against Dedgar Jimenez, who allowed a leadoff triple to Adam Engel and a single to Hunter Jones to put the Dash up 1-0.
Winston-Salem added insurance runs in the fourth and fifth innings to pad their lead for starter Brandon Brennan to 3-0.
Salem (29-13) threatened to score against Brennan in his first three innings of work, but the righty stranded a runner in scoring position in each of the three frames. He settled in with a 1-2-3 fourth inning as his offense kept up its steady attack.
Just as Mike Meyers was set to lead off the bottom of the fifth, Mother Nature decided to put a halt on the game. At 7:15 pm, the skies opened up and the game halted for a 69-minute rain delay.
The Dash sent Manny Martinez to the mound when the delay was over, ending Brennan's start prematurely, and the Sox were set down 1-2-3.
German Taveras replaced Jimenez (2-2) on the bump for Salem, allowing a two-run homer to Ryan Leonards in the sixth, and a run on back-to-back doubles with one out in the seventh before being removed from the game. Austin Maddox entered the game and extinguished the fire to hold the score at 6-0.
Martinez (1-1) settled in nicely for Winston-Salem in relief, retiring all 12 batters he faced, part of a larger trend of 20 of the final 21 batters being retired by Dash pitching.
Maddox completed the game on the hill for the Red Sox, finishing with 2.2 scoreless innings of relief work.
Danny Dopico entered in the ninth for Winston-Salem, and set the Sox down to complete the shutout.
The Red Sox are back in action Sunday afternoon against the Winston-Salem Dash. First pitch is scheduled for 4:05 pm. Salem will send Trey Ball (2-0, 1.96) to the mound, countered by Matt Cooper (2-3, 4.20) of Winston-Salem. For tickets and more information, call (540) 389-3333 or slide to www.salemsox.com/tickets.