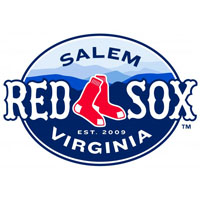 Ryan Dent jacked a grand slam, three different Salem Red Sox hitters drew three walks apiece, and Brian Johnson tossed five quality innings to help the Sox crush Myrtle Beach 10-3 in the 2014 season opener.
Salem fell one walk shy of a franchise record, taking 13 free passes over the course of the night. Bizarrely, two balks also served to move along baserunners on an evening when the Pelicans outhit the Sox 10-7, but still got blown out.
Jonathan Roof, Carson Blair, and David Chester, batting consecutively as the two-three-four triumvirate, each received three walks in the contest, with Roof and Blair also chipping in extra-base hits to the cause. Blair's RBI triple in the first inning broke the scoring seal for the Sox, while Roof picked up his first knock in a Salem Jersey with a sixth inning double.
Myrtle Beach starter Victory Payano struggled to locate his fastball, issuing three walks in the first two innings, as the Sox jumped out to a 3-1 lead. In the third, Payano walked the first three hitters and that was all for the young lefty. Relieved by Sam Stafford, Payano saw all three stranded runners score, as a balk, a walk, and a grand slam widened the gap considerably.
When Dent's towering round-tripper soared beyond the left-field fence, the Sox were ahead 9-1 and rolling toward a triumph.
Johnson surrendered an unearned run in the first, but then cruised through his next three innings, retiring 12 of 14 batters at one point. He piled up seven strikeouts over five frames, walking a pair and permitting his only earned run in the fifth.
In relief, Kyle Martin struck out four over three innings, allowing one run, while Kyle Stroup dealt a one-two-three ninth to finish the victory.
Dent led the offense with two hits and five RBI in his first carolina league action since 2010. Roof and Blair each reached base four times near the top of the lineup, and every Red Sox hitter reached base at least once via a hit or a walk.
Considering that Salem closed the 2013 campaign with 11 straight wins and a Mills Cup Championship, the Red Sox have now won each of the last 12 games they've played, dating back to August 28, 2013. The longest winning streak in Salem history is 14, set in the 2006 regular season as a Rockies affiliate.
The Sox will aim for a 13th straight win on Friday night in the second game of the four-game series with Myrtle Beach. William Cuevas, the winning pitcher in September's Mills' Cup clincher, will get the ball for the Sox opposite 2012 carolina league All-Star Cody Buckel. First pitch is lined up for 7:05.