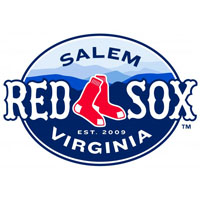 Jonathan Roof's 7th inning home run gave the Salem Red Sox a 4-3 lead which would be enough for the Sox 4th consecutive win, and third straight to start the series against the Mudcats. Roof's third home run of the season was his second in two nights, after hitting a first inning blast in game one yesterday.
Pat Light picked up his first victory of the season, allowing 3 runs and 5 hits. Light struck out 3 in 6 innings of work. Kyle Martin pitched 3 hitless innings in relief for his 4th save of the season. On the other side, Jonathan Martin got the loss in relief, surrendering the go ahead homer to Roof in the 7th. Cole Sulser started for the Mudcats, surrendering 5 hits and 3 runs in 5 and 1/3 innings. Lucas Head pitched a scoreless 9th for the Cats.
Salem used 5 doubles to pace its offense. Carson Blair doubled in Kevin Heller in the 2nd to get the offense started. Kevin Mager then doubled in Blair to extend the lead to 2-0.
Carolina countered in the bottom of the third, ending a 19 and 2/3 inning scoreless streak for Salem pitchers. Todd Hankins doubled in Luigi Rodriguez to cut the lead in half. Hankins scored later in the frame on a Yhoxian Medina single to tie the game at 2.
The teams traded runs in the 6th. Salem scored on consecutive doubles by Heller and Blair, while Carolina scratched across a run on a Anthony Gallas double in the bottom of the frame. Then Roof's homer on a 3-2 pitch with two outs in the 7th put the Sox up for good.
The Mudcats last chance to tie the game came in the 8th. With the infield playing in and a man on third, Todd Hankins was cut down at the plate by Reed Gragnani on a ground ball from Jeremy Lucas that ended any shot at a Carolina comeback.
With the win, Salem moved within 4 games of Myrtle Beach for the South division lead. The Sox go for the 4 game sweep of the Mudcats at Five County Stadium tomorrow afternoon at 2. Simon Mercedes will make the start for the Sox, while Shawn Morimando will be on the hill for the Cats.