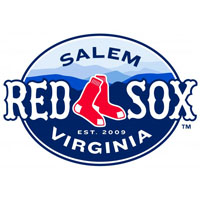 The Salem Red Sox coughed up multiple leads and fell to Wilmington 7-6 in 10 innings on Monday afternoon, with Logan Davis' RBI triple off Kyle Kraus sending the Rocks to the winners' circle in their season finale. Despite the setback, the Sox will proceed on to the Southern Division Championship Series, a best-of-three battle with Myrtle Beach scheduled to begin on Wednesday in South Carolina.
Down 6-4 into the last of the ninth, the Blue Rocks rallied for the tying runs against Matty Ott, with Zane Evans lacing a game-tying double into the left-field corner. The Sox went 1-2-3 in the top of the 10th, and the Rocks promptly delivered the knockout punch.
Salem's loss clinched the second-half Southern Division crown for Myrtle Beach, ensuring that all three games of the S.D.C.S. will be waged at TicketReturn.Com Field. If the Sox had prevailed and the Pelicans had lost their Monday afternoon game (starting at 5:05 PM), Salem would have hosted the opening game of the series on Wednesday.
Carlos Asuaje picked up his 100th and 101st RBIs of the season with a two-run double in the top of the first, lifting Salem to an early edge. The lead swelled to 4-0 after two and a half, but the Blue Rocks scratched away and even the score at four in the last of the sixth. Salem inched ahead with a couple retaliatory runs in the top of the seventh, only to see the Rocks answer again in the ninth.
Salem finishes the regular season at 68-68, the third-best overall record in the Carolina League. The Sox went 35-33 in the second half, en route to the wild card spot.
For the second straight year, the Sox meet the Pelicans in the Southern Division postseason battle, with the action set to start on Wednesday at 7:05.