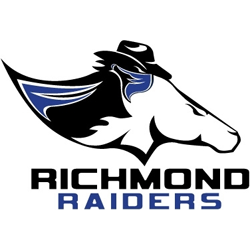 Three straight defensive stops by the Richmond Raiders to start the second half helped turn a one-point deficit into a 20 point lead, and the team never looked back as they topped the Harrisburg Stampede, 55-33.
Interceptions by Tyrell Austin and Torez Jones, who had a spectacular one handed grab in the end zone, and a turnover on downs kept the Stampede scoreless in the third quarter. The 55 points scored were a season high, and the 33 allowed tied the season low.
Phil Konopka threw touchdown passes to Herb Jones on consecutive drives to start the second half, and had a season high four on the night. He led the team to touchdowns on three straight fourth quarter possessions as the Stampede tried to get back into the game. Two Harrisburg onside kicks were unsuccessful, and they never got closer than 15 points. Kenny Jones ended the scoring with his season high third touchdown.
The Raiders got pressure on Nemeth consistently starting with the opening drive, forcing a fumble and knocking him down on a pass. He was picked off three times in all, sacked four times, and harassed much more often than not. He did have a couple of long touchdowns, including 24 and 25 yard scores in the fourth quarter as he and the Stampede tried to rally. But the times he was able to set his feet and make a solid throw were few and far between, The teams traded touchdowns in the early stages, with the Raiders holding serve and a 20-14 lead when they stopped Nemeth's fourth-and-goal run from the three yard line.
Looking to extend the lead before halftime, Konopka threw an interception in the end zone which Nemeth followed with a 35 yard touchdown to Norman White to give Harrisburg a one point lead at the end of the first half. Herb Jones doubled his touchdown output for the season with three total scores. Daron Clark led all receivers with 127 yards. Amara Kamara picked up where he left off, notching two sacks in addition to the four he got in the teams' previous meeting, but the Raiders' defensive front of Devin Jones, Christian Lacey, Preston Hines, and Gus Tyson were all in Nemeth's face throughout the night.
The Raiders will return to action Sunday, June 1 at the Georgia Fire. They'll return home Friday, June 6 to face the Lehigh Valley SteelHawks. Tickets start as low as $7, and are available on the Raiders' website, www.RichmondRaidersProFootball.com, or by calling 1-855-GO-RAIDERS or 804-780-0430. Additionally, fans can contact the Richmond Coliseum box office or visit ticketmaster.com.