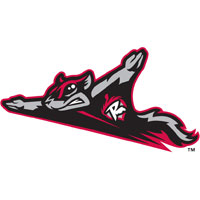 The Richmond Flying Squirrels (34-25) cruised to their fourth consecutive victory, 5-1, over the Reading Fightin Phils (30-29) on Saturday night at FirstEnergy Stadium.  The Squirrels have now won 10 of their last 11 games and they sit a season high-water mark of nine games over .500.
The Fightins did break on top first against Richmond right-hander Kyle Crick in the bottom of the third inning.  With one out, Albert Cartwright lifted a solo-home run to right field.  The opposite-field home run put Reading in front, 1-0.  It also marked the first Double-A home run conceded by Crick.
The home run was the only blemish of the evening for Crick (4-1), who worked five innings and earned his fourth win of the year.  He allowed just the lone run on five hits, walked one and struck out three.
Meanwhile, Reading righty Severino Gonzalez cruised through five scoreless innings, allowing the Squirrels just three hits.  However, they came alive to take the lead against him in the sixth.  With one out in the inning, Kelby Tomlinson singled.  Matt Duffy followed with a single before Mario Lisson struck out.  jarrett parker then smoked a two-run double into the right-field corner.  Tomlinson and Duffy scored for a 2-1 lead.
Gonzalez returned to begin the seventh inning and promptly walked Tyler LaTorre.  Skyler Stromsmoe then laid down a bunt-single to put two aboard.  Reliever Andrew Carignan then attempted to lay down a sacrifice-bunt.  Gonzalez tried to throw to third base, but threw wildly, his error loading the bases.  An out later, Tomlinson lifted a sacrifice-fly into right field to bring in LaTorre for a 3-1 lead.
Gonzalez (4-7) was ultimately charged with three runs – two earned – over six innings plus three batters.  He conceded seven hits, walked two and struck out five.
Richmond capped the scoring against right-hander Kyle Simon in the top of the ninth inning.  LaTorre led off with a single to left field.  An out later, Angel Villalona pinch-hit and crushed a two-run home run to left field.  His eighth of the year made it 5-1 for the Squirrels.
Richmond right-handers Carignan and Edwin Quirarte bridged the ballgame to the ninth inning working a combined three innings of scoreless relief.  Closer Derek Law took it the rest of the way in a non-save situation, facing the minimum in a scoreless inning.
Game three of the four-game series is scheduled for 1:35 p.m. on Sunday afternoon at FirstEnergy Stadium.  Richmond LHP Kelvin Marte (3-2, 5.54) will make the start against Reading LHP Hoby Milner (4-2, 3.52). The Flying Squirrels Pregame Warmup begins at 1:05 p.m. on Sports Radio 910 and SportsRadio910.com.