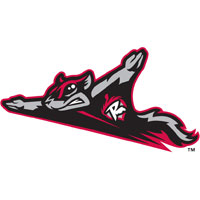 With the help of five walks, the Richmond Flying Squirrels (43-31) scored six runs in the first inning en route to a, 7-2, win over the harrisburg senators (30-44) on Monday night at The Diamond.  With the victory, the Squirrels climb to a season-high 12 games over .500.
The organizational debut of right-hander Scott McGregor went horrendously wrong from the outset.  He walked the first five Squirrels' batters in the first inning.  That string included Tyler Graham, Skyler Stromsmoe, Jarrett Parker, Mario Lisson and Ricky Oropesa.  The walks to Lisson and Oropesa forced home runs, giving Richmond a 2-0 lead.  Devin Harris followed the walk-parade with a two-run double into the left-field corner.  McGregor was lifted in favor of right-hander Colin Bates having not recorded an out.  Bates lined out Tyler LaTorre for the first out, but Kelby Tomlinson singled home a run and Ty Blach made it 6-0 with an RBI bounce out.
McGregor (0-1) was charged with all six runs in the first inning and took the loss – his first.  He allowed just one hit, but walked five and struck out none.
Blach worked two scoreless innings before the Senators picked up their first run in the third.  Caleb Ramsey laid down a bunt-single to get things started.  Cutter Dykstra and Matt Skole then delivered back-to-back soft-singles to bring Ramsey in to make it 6-1.
Blach (5-4) had little trouble from there, working six innings for his fifth win.  He surrendered just the lone run on eight scattered hits.  He walked one and struck out a season-high nine.
The Senators capped their scoring with a run against right-hander Edwin Quirarte in the seventh inning, but the Squirrels responded with their final run in the eighth.  After Graham opened the inning with a double off right-hander Paul Demny, Parker lined a single into right field to score him.
Quirarte handled two innings of relief and righty Hunter Strickland had no trouble in a perfect ninth inning to finish the win.
Game two of the three-game series is scheduled for 6:35 p.m. at The Diamond on Tuesday night.  Richmond LHP Jack Snodgrass (7-1, 3.24) will make the start against Harrisburg RHP Brett Brach (1-1, 8.00).  The Flying Squirrels Pregame Warmup begins at 6:05 p.m. on Sports Radio 910 and SportsRadio910.com.