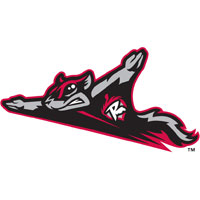 Right-hander A.J. Morris turned in seven sterling innings as the Altoona Curve (16-24) blanked the Richmond Flying Squirrels (21-19), 3-0, on Saturday night at Peoples Natural Gas Field.  Three pitchers ultimately combined on the shutout as the Curve leveled the three-game series.
Stetson Allie gave Altoona the early lead when he homered off of lefty Ty Blach in the bottom of the first inning.  It was a two-run shot into the left-field bleachers for Allie, as Alen Hanson was aboard with an earlier single.  Allie's eighth of the year – and second against the Squirrels – put the Curve in front, 2-0.
Following Allie's home run in the first inning, Blach settled in nicely.  He retired 14 of the next 15 batters, working into the sixth inning.  However, with one out, Hanson blasted a solo-home run to left field.  Hanson's third hit of the night against Blach extended the Altoona lead to 3-0.
Blach (3-2) departed later in the sixth inning and was saddled with the loss over 5 2/3 innings.  He surrendered three earned runs on six hits, walked none and struck out four.
Meanwhile, Morris (4-0) was cruising.  He twirled seven shutout innings for the win.  He conceded six hits – all singles – but rolled four double-plays as well.  He walked one, hit one and struck out four as he earned his fourth victory of the season.
Lefty Jhonathan Ramos found some trouble in the top of the eighth inning, but worked through it to keep the shutout bid intact. Right-hander Emmanuel de Leon worked a scorless ninth inning to complete the shutout and earn his first save of the season.
The finale of the three-game series is scheduled for 6 p.m. on Sunday night at Peoples Natural Gas Field.  Richmond LHP Jack Snodgrass (3-0, 1.80) will make the start against Altoona LHP Zack Dodson (0-1, 2.63).  The Flying Squirrels Pregame Warmup begins at 5:30 p.m. on Sports Radio 910 and SportsRadio910.com.