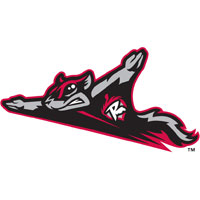 In front of their fifth consecutive opening night sellout crowd (9,560), the Richmond Flying Squirrels (4-4) were stifled by the Altoona Curve (3-3), 6-1, on Thursday night at The Diamond.
The Curve got out of the gate quickly, striking for an oddly-scored run in the top of the first inning.  Alen Hanson opened the ballgame with a single off Richmond right-hander Clayton Blackburn.  Hanson was bunted to second base with one out.  Blackburn struck out Stetson Allie, but strike three was in the dirt and got away from catcher Myles Schroder.  Hanson advanced to third as Schroder tracked the ball down and scored on Schroder's throw to first base for the out.
Blackburn conceded inning-opening singles in each of the first three innings, including to Curve starting pitcher Adrian Sampson in the third.  Sampson advanced to second on a wild pitch and moved to third on a single from Hanson.  He scored for a 2-0 lead on an infield-single from Allie.
The Curve plated two unearned runs in the fourth inning to extend their lead to 4-0.  Ralph Henriquez led off and reached on an error.  He stole second base and scored two batters later when Hanson singled for the second time.  Hanson then stole second base and moved to third on a throwing error from Schroder.  He scored on Blackburn's fourth wild pitch of the evening.
Blackburn (0-1) – the recipient of massive misfortune throughout his outing – lasted just four innings and absorbed his first defeat.  He conceded four runs, two earned, on six hits ,walked none and struck out six.
Sampson began his outing with four scoreless innings.  However, the Squirrels finally got to him in the fifth inning.  Schroder beat out an infield-single to start the inning and stole second base.  Ricky Oropesa walked behind him.  The runners moved up on a fly out and ground out and Schroder scored Richmond's first run on a bunt-single from Tyler Graham.
Sampson (2-0) allowed just the lone run in five innings of work to earn the win.  He permitted just three hits, walked two and struck out four.
Right-hander Edwin Quirarte worked two scoreless innings of relief for the Squirrels, but the Curve padded their lead against Jose Casilla in the seventh inning.  After a pair of singles and a walk, Casilla drilled Jarek Cunningham to force home a run, giving Altoona a 5-1 advantage.
The Curve tacked on their final run in the top of the ninth inning.  Three relievers finished the win for the Curve.  Right-hander Emmanuel de Leon handled two innings, while Ryan Beckman and Brandon Mann each worked one to close it out.
Game two of the four-game series is scheduled at The Diamond on Friday night at 7:05 p.m.  Richmond LHP Adalberto Mejia (1-0, 5.40) will make the start against Altoona RHP Nick Kingham (1-0, 0.00).  Pregame coverage will begin at 6:35 p.m. on SportsRadio910.com.