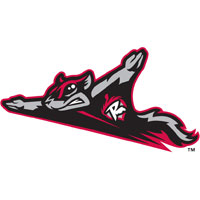 The Richmond Flying Squirrels (8-5) were crisp in a 4-1 win over the Reading Fightins (8-4) played on a chilly Wednesday afternoon at The Diamond.  Despite the conditions, 6,113 attended and the Squirrels concluded their first homestand leading the Eastern League in average attendance at 7,181.
Both starting pitchers got off to strong starts in the ballgame, hurling three scoreless innings.  However, right-hander Perci Garner blinked first, conceding a lone run in the fourth inning.  Richmond took a 1-0 lead as Brett Krill led off with a single.  He promptly swiped second base and Matt Duffy walked behind him.  Garner got the first out on fielder's choice bouncer from Jarrett Parker, but Angel Villalona plated Krill with a sacrifice-fly to center field.
The Fightins pulled back even with their only run against left-hander Ty Blach in the fifth inning.  Edgar Duran sparked Reading with a lead-off single.  Garner bunted him to second and he scored to tie the game, 1-1, when Cesar Hernandez singled back through the middle.
Both starters departed due to pitch counts and neither factored in the decision.  Garner went just four innings, surrendering only the lone run on one hit.  He walked two and did not strike out a batter.  Blach lasted 4 2/3 innings, permitting a lone run on five hits.  In uncharacteristic fashion, he walked three batters – in a row – and struck out three.
The Squirrels broke back on top against Garner's successor, right-hander Ryan O'Sullivan, in the sixth inning.  Tyler Graham led off and reached on a fielding error on Hernandez, the third baseman.  Krill followed the miscue and lined a double into right-center field.  Duffy then singled through the right side of the infield to plate Graham for a 2-1 lead.  The run was unearned against O'Sullivan (1-2), but he absorbed the loss nonetheless.
Richmond right-hander Austin Fleet (1-0) earned the win in relief.  He worked two scoreless innings to stretch his string of scoreless innings to 9 1/3.  Right-handers Cody Hall and Derek Law took it from there.  Hall handled four outs without allowing a base runner and Law earned his second save with a perfect ninth.
The Squirrels insured the win with single runs in both the seventh and eighth innings.  Graham knocked in the run in the seventh with an RBI single, while the final run scored on a series of defensive misplays from Reading.
The Squirrels embark on their second road trip of the season on Thursday, traveling to Altoona, PA, to open a three-game series with the Altoona Curve (Pittsburgh Pirates).  First pitch of the opener is scheduled for 6:30 p.m. as Richmond RHP Clayton Blackburn (0-1, 3.00) will make the start against Altoona RHP (1-0, 0.75).  Pregame coverage will begin at 6:00 p.m.on SportsRadio910.com.