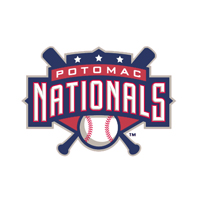 The Potomac Nationals have been given the June Promotion of the Month Award by Minor League Baseball for "Beard-A-Palooza Weekend" on June 13th-15th.
The honor automatically nominates the Nationals for a Golden Bobblehead award, which is given to the best promotion in all of Minor League Baseball throughout the 2014 season.
The P-Nats "Beard-A-Palooza Weekend" included the inaugural "Beard Olympics" and the "Jayson Werth BobbleBeard Giveaway" from Friday, June 13 through Sunday, June 15. Beard-related events took over Pfitzner Stadium all weekend long.
"Beard-A-Palooza weekend was a great home stand on many levels," stated P-Nats' gm Josh Olerud. "We had a record breaking weekend in attendance, fan participation, and most importantly, we had three nights of record breaking fun!"
After the official on-field opening Beard-A-Mony, a "Parade of Beards" culminated in the lighting of the Beard Torch. The beardamonial first pitch preceded a hairy national anthem.
In honor of Friday the 13th, the P-Nats handed out an award to the hairiest and scariest beard in northern virginia.
The themed-weekend′s shaggy centerpiece was certainly the Jayson Werth BobbleBeard Giveaway. Werth′s "BobbleBeard" likeness featured an actual hairy beard that served as the hallmark of the collectable figure. It took just 13 minutes to distribute a 1,000-count of this bushy giveaway item.
In the interest of prickly pageantry, the weekend′s between-inning promotions included a "Name That Beard" contest, in addition to beard trivia on the video board.
The Nationals offered a bevy of bearded food items in the concessions stand served by bearded workers. Dressed up offerings included bearded nachos, the BeardFather and a mini corn dog beard basket (hold the hair).
At the conclusion of each game, all beards were invited to join a bearded edition of race the bases.
Throughout Beard-A-Palooza Weekend, The Pfitz also played host to the first annual Beard Olympics, with competitions including the fastest, longest and strongest beards.
The first-ever "Beard Tasting" in the history of the world featured blindfolded beards tasting and then guessing sauces directly off the fake beards of Potomac Nationals′ promotional staff members.
There was also a Beard vs. Food competition in the ballpark café that included a race to see which beard could inhale a cup of nacho cheese the fastest.
Sunday′s game wrapped up a beard-filled weekend of furry festivities with the closing Beard-A-Mony that commenced the Beard Olympics and recognized the Beard Olympics Champion, who now owns the Beard-A-Palooza Title Belt.