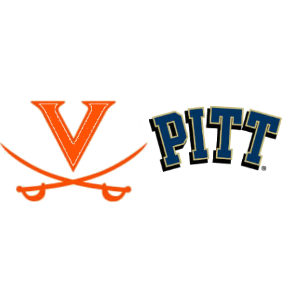 Highlights from the postgame interviews with UVA coach Mike London and Virginia players following the Cavs' 24-19 ACC win over Pitt.
Coach Mike London
Opening Statement: "First of all, my hat goes off to Pittsburgh. This was a very tough and physical game and we knew it was going to be that. They have a great running back in James Conner, their defense was in the top 10 coming into this game, and I feel really good about some of the effort and some of the things we did. We were resilient. We made plays in the end when we had to do so. Again, with the effort, your hat goes off to players that make those types of plays."
On Kevin Parks' career high 169 rushing yards: "You could tell early on that Kevin [Parks] was doing a lot of his yardage after he was initially stopped. He was running through arm tackles, and he pushed the pile. We all know what he can do because he is the ACC returning leading rusher, but this game was one of those games that he was making himself known. He was a dominant force out there today and I'm happy for him to have a career day."
On Quarterback Matt Johns' play: "He played well enough for us to win. Greyson Lambert could have played, but as I said before, if he isn't 100 percent we aren't going to play him. We will worry about a quarterback decision once we get a chance to get everyone healed and practicing. Right now we will go back, look at this film, and correct some of the errors that occurred. As I said, we are 2-0 in the conference and 4-2 overall. It's about moving forward for us, and that is what we are doing."
On their position going into the bye week: "Physically, everybody gets banged up as you go through the college football season, particularly coming out of a tough physical game. Allowing guys to get healed up for different issues is always a good thing. Allowing time to scout yourself and look at some other things is always good as well. It's a positive place for us to be right now, and with all conference games left and some road games left, we need to make sure we just continue to improve."
On the trick play: "You always have a certain section of practice where you work on trick plays or gadget plays. They were playing a certain coverage that would allow us to do that play. Steve [Fairchild] did a great job in calling it, and Miles Gooch got the ball out there. So, there are always gadget plays that you practice, but this is the one that fit the coverage at the time."
Senior Running Back Kevin Parks
On getting the majority of the carries: "It's however the game goes, or who the coaches want in the game. He felt like I had the hot hand today, so he rode me a little bit. However it happens, I'm a team player so I play it however it goes."
On the first-half success: "We established the run. That was the game plan. We knew they were a run team, so we knew that they kept possession. We knew that when we got the ball we had to score in the red zone and put points on the board."
On if Pittsburgh changed its defensive game plan in the second half: "They kept playing the way they did. They play hard. It's a football game. They came out and made stops when they needed to. But, we kept pushing and kept chugging along."
On playing physical football: "It was a very physical game, and that's what I'm about. These tough games, grind it out games. I feel like that's my game and that's my style."
Junior Defensive Tackle David Dean:
On the crowd: "It was awesome. It was great the whole time. I felt like they were out of their seats for all four quarters and it definitely played a factor. They had a few false starts that were key, the one on the goal line especially. They were in it the whole time and they were a great crowd."
On how the Virginia defense is right now: "We're physical, we're confident and we're hungry. We come in every day and we just want to get better. Each week we're making progress on the field."
On Virginia using more than one defensive tackle: "Donte [Wilkins] helped us a lot. He played his butt off. He made two or three big plays and he was all over the field. His energy, I believe, kept not only me, but also the whole defense up. It kept us alive the whole game. Whenever he came on the field he was in our faces and running all over the field like a wild man making plays."
On usually being the one true defensive tackle in Virginia's defensive packages: "I think we play it well. A lot of teams try to punish us in that nickel set when we have Michael [Moore] at the defensive tackle. So, we have to show that we can bring Donte [Wilkins] in and still be a physical front. That's important, and I thought that was key today. We showed that Donte and I can be in the middle, and be a force."
Senior Linebacker Henry Coley
On the halftime message to the team: "We told our guys not to celebrate- and guys didn't. We were still locked in. We need to play 60 minutes of football- offense, defense, and special teams. We can't shoot ourselves in the foot."
On limiting Pitt Running back James Conner: "We played our defense. He had 80 yards, so we did not exactly limit him. We kept him under 100 yards, but 80 yards is not great, either.
Senior Wide Receiver Miles Gooch
On passing for a touchdown: "The last time I threw a pass in a football game was my senior year of high school. It felt good today to throw the ball. I was so happy that it was a completion. As soon as I let it go, I was thinking 'Oh please, get there, please'."
Sophomore Linebacker Max Valles
On scoring a touchdown: "I haven't scored a touchdown in three years. It was cover two and I was waiting for the quarterback to throw it. I knew if he did, I would have a chance to pick it off."
On maintaining the lead: "Last year's team would have given up, but this year's team kept fighting. We went out there and stomped them. We did not let them get up on us."
Sophomore Quarterback Matt Johns
On the second half struggles: "It was frustrating, but we converted some big third-down plays to keep their offense off the field. You have to take your hats off to Pitt. They put us in bad field position the whole second half. The first half we had great field position and we moved the ball well."