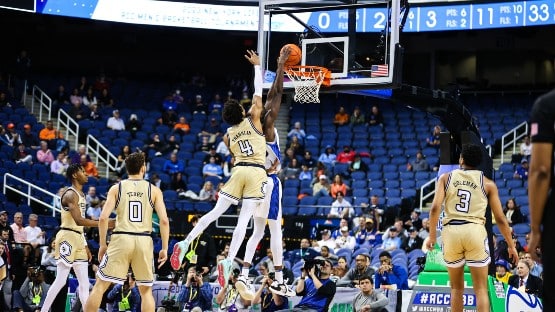 Pitt escaped a game effort from Georgia Tech to post a necessary 89-81 win in Wednesday's ACC Tournament second round on Wednesday.
The Panthers (22-10) may have (fingers crossed) sewn up an NCAA Tournament bid in the process, though of course they could eliminate all doubt with three more wins.
First things first.
Pitt had a chance to clinch the tournament's top seed, but lost 78-76 to Miami on Saturday, and fell all the way to the fifth seed, which is why they were playing on Wednesday.
Georgia Tech (15-18), meanwhile, was pretty much just playing for pride, after winning by one over Florida State on Tuesday.
And the Yellow Jackets trailed 44-31 at the half, making it seem like there was writing on the wall about how this one would play out.
Credit to Georgia Tech, which actually rallied to take a 52-50 lead on a Miles Kelly and-one with 12:55 left.
Pitt wouldn't shake the Jackets until the final minute, the dagger coming in the form of a Blake Hinson three with 41 seconds left that made it 85-77.
Georgia Tech would close to within four with 22.2 seconds left, but Greg Elliott closed things out by going 4-of-4 at the line.
Four of Tech's five starters went all 40 minutes.
Ja'von Franklin had 19 points and 15 boards for the Yellow Jackets.
Jamarius Burton led Pitt with 21 points and eight assists.
The Panthers advance to face the fourth seed, Duke (23-8) on Thursday at 2:30 p.m.
Duke won the teams' only regular-season matchup, 77-69, in Durham, on Jan. 11.
The predictive analytics website KenPom.com has Duke as the slight two-point favorite in the quarterfinal matchup.