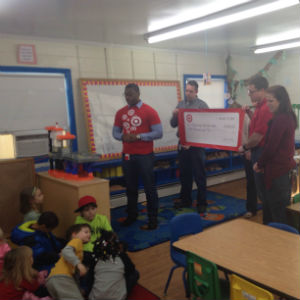 Marcus Jenkins remembers spending his days at Community Child Care as a little boy. He didn't remember the name, but he distinctly remembered the unique building and its familiar location. Roughly forty years later, he was back, sweeping floors and scraping paint from the walls.
Jenkins, a 16-year employee at the Target Distribution Center in Stuarts Draft, was one of dozens of Target employees partnering with the United Way of Greater Augusta and other community members in order to help restore the aging structure to its previous glory.
Taking part in the Martin Luther King Jr. National Day of Service, the United Way of Greater Augusta applied for and received a grant from Target on behalf of Community Child Care that included not only funds for materials, but also employees volunteering their time to make repairs to the non-profit day care's weathered facility. Volunteers have been painting the interior of the building, replacing a floor in one of the classrooms, cleaning various rooms, and fixing crumbling drywall.
"This week, the community is answering Dr. King's call to serve, and is making a difference in the lives of local residents," said Cynthia Pritchard, CEO of the United Way of Greater Augusta. "As a resourceful way to meet local needs, volunteer service is a powerful tool that builds strong communities. We are putting the core American principles of citizenship and service into action."
The United Way of Greater Augusta and the Target Distribution Center are leading area residents in volunteer service to honor Dr. Martin Luther King's legacy. Target employees have been joined by dozens of community volunteers across the region, starting this past Saturday and finishing up the project Thursday evening. Community Child Care, in Staunton's west end has served working-income families for over forty years by providing quality affordable child care services so that parents can work and provide for their families.
After being presented with an oversized ceremonial check at Community Child Care on Monday morning, the children were asked what they wanted to do to thank the Target volunteers. "Sing" they shouted. What song do children sing when they are excited and don't know what else to do? "Happy Birthday" of course, even if they didn't quite realize how appropriate that song is on this holiday weekend.