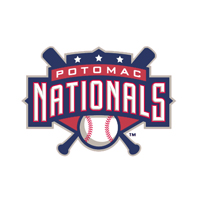 The Potomac Nationals beat the Salem Red Sox 11-4 Sunday night at Pfitzner Stadium. John Simms picked up his second win of the season, going five innings allowing six hits and four runs.
The Red Sox did take a 2-0 lead in the ballgame. Carson Blair continued his torrid pace with a lead off single, followed by singled by Janzen Witte and Mario Martinez, which made it 1-0. Then Aneury Tavarez brought in a run while bouncing into a double play, to give the Sox 2-0.
Cody Kukuk was dominant through his first two innings, but it all came unraveled in the third. Will Piwnica- Worms led off the frame with a home run to cut the lead in half. Then Cole Leonida singled, followed by a pop out made it runner on first and one out. But then everything fall apart. Kukuk walked Tony Renda, then allowed a single to Stephen Perez, fielders choice to Tejeda which brought in the go-ahead run. Then consecutive hits by Shawn Pleffner, Randolph Oduber, and Khayyan Norfork plated three more runs and made it 6-3 Potomac.
The Sox added a run in the top of the fourth when Kevin Heller was hit by a pitch with the bases loaded. Kukuk came out for the bottom of the fourth, immediately allowing a walk to Leonida and a double to Martinez, Kukuk was pulled for William Cuevas. Both runs would come home to score after a bases loaded walk to Oscar Tejeda and a sacrifice fly by Shawn Pleffner to make it 8-3 Potomac.
The Sox netted their final run in the top of the fifth. Matty Johnson led off the frame with a triple, and used his speed to score on a groundout by Mike Miller.
The game held 8-4 until the bottom of the seventh. The P-Nats picked up another lead off homer, this one by Randolph Oduber to make it 9-4. Then Cuevas allowed a single to Norfork and double by Piwnica-Worms to make it second and third with no one out. Cuevas got it to two outs, but a single by Renda brought home the runs to make it 11-4 Potomac.
With the loss, Salem drops to 1-4 on the second half. The Sox send their all star Justin Haley to the hill tomorrow against Dakota Bacus. First pitch is at 7:05. Bryce Harper and Wilson Ramos are expected to make rehab appearances for Potomac.