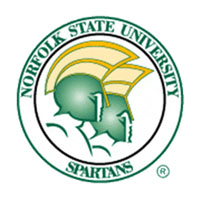 The Norfolk State men's basketball program finalized its 2014-15 schedule, highlighted by 13 home games as well as a spot in the Barclays Center Classic.
The Spartans will host the usual eight MEAC contests at an upgraded Joseph Echols Hall in addition to home games against Boston University, Texas Southern and Northern Arizona. NSU will also welcome non-Division I opponents Pfeiffer and U.Va.-Wise to Norfolk. All-in-all, the Spartans will play four games against BCS-level teams and nine against programs that made the postseason last year.
"With a young team, we know there are always going to be growing pains. We really wanted to play a challenging schedule early on to throw them into the fire right away," said head coach Robert Jones. "We also wanted to have a better ratio of home-to-away games, and we feel we accomplished both of those goals.
"This is probably the toughest schedule we've played in the eight years I have been here."
The Spartans will compete against St. Francis Brooklyn and then either St. Peter's or Tennessee State in a four-team tournament at St. Peter's over the Thanksgiving weekend as part of the Barclays Center Classic. Away games at Virginia and Vanderbilt will also count toward NSU's participation in the tournament.
NSU begins the year against Pfeiffer at home on Nov. 14 at 8 p.m., part of a doubleheader with the women's team. From there, the Spartans head to Virginia on Nov. 16 before returning home to host Boston University at 7 p.m. on Nov. 19 and Texas Southern on Nov. 22 at 5 p.m.
The Thanksgiving week will be a busy one for NSU, beginning with a Tuesday night contest at Vanderbilt on Nov. 25. The Spartans will then take on St. Francis Brooklyn on Nov. 28 and either St. Peter's or Tennessee State the following day in the second bracket of the tournament.
"It is an honor to be invited to participate in the Barclays Center Classic," said Jones. "It will serve as a great opportunity for some of our players, including a couple seniors, to compete close to home."
After another road contest at Hofstra on Dec. 2, NSU will battle MEAC foes Morgan State on Dec. 6 at 6 p.m. and Coppin State on Dec. 8 at 7 p.m. The latter contest against the Eagles will be a single game as opposed to the usual MEAC doubleheader, with the NSU and Coppin State women's teams playing on a separate date.
The Spartan men make a trip to Mount St. Mary's on Dec. 13 and then come back to Echols Hall again to face U.Va.-Wise on Dec. 15 and Northern Arizona on Dec. 19, both at 7 p.m. NSU plays one last time before the Christmas holiday at James Madison on Dec. 22.
Following the break, NSU flies out to Texas to face Baylor on Dec. 30, followed by roads contests at Georgia on Jan. 3and at Princeton on Jan. 6. After those last non-conference games of the year, NSU then dives back into MEAC play with a trip to Florida A&M and Bethune-Cookman on Jan. 10 and 12, respectively.
The Spartans will host North Carolina Central on Jan. 17 (6 p.m.) and North Carolina A&T on Jan. 19 (8 p.m.), followed by another long conference trip for the third straight year to South Carolina State  on Jan. 24 and Savannah State onJan. 26. NSU caps off the month of January with the Battle of the Bay against Hampton at Echols Hall on Jan. 31 at 6 p.m.
Norfolk State will get the added benefit of staying home for another week when the Spartans host Howard on Feb. 7 at 6 p.m. and UMES on Feb. 9 at 8 p.m. They then close out the regular season with four of five games on the road, including two trips to Baltimore to play at Morgan State on Feb. 14 and at Coppin State on Feb. 21.
After an 8 p.m. home game against Delaware State on Feb. 23, NSU will play at Howard on March 2 and at Hampton onMarch 5. The MEAC tournament will take place at the Norfolk Scope for the third year in a row from March 9-14.
NSU returns seven players who competed last year and welcomes seven newcomers to the 2014-15 team. The Spartans saw seven seniors finish their careers last season, with nearly 80 percent of the team's scoring from a year ago now gone.