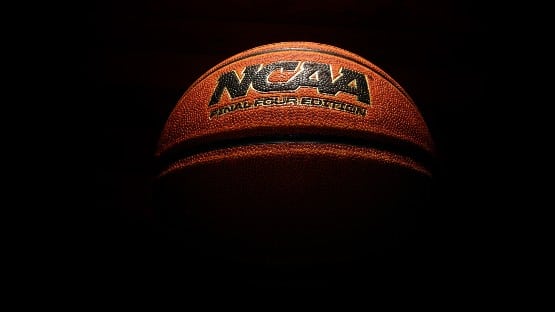 NCAA Tournament action continues Friday, with four more Sweet 16 matchups to be decided — two from the South Region at the KFC Yum! Center in Louisville, Ky., and two from the Midwest Region at T-Mobile Center in Kansas City, Mo.
Friday's winners will meet on Sunday for a spot in the Final Four next weekend in Houston.
Below is a breakdown of all four of the Friday games, including how they got here, who's favored, tip-off times, and which players to keep an eye on.
South Region — No. 5 San Diego State (29-6) vs. No. 1 Alabama (31-5), 6:30 p.m., TBS
The line: Alabama by 7.5.
Final NET ranking: SDSU 14; Alabama 2.
Record vs. AP Top 25: SDSU 0-2; Alabama 7-4.
The Aztecs were the Mountain West Conference's regular-season and tournament champions, and they enter the weekend riding a 6-game winning streak. The stage doesn't get much bigger for sixth-year coach Brian Dutcher's team, which is making just its third appearance in the Sweet 16. The Aztecs have never been any further than their current position, and a win over Alabama would easily qualify as the biggest in SDSU history.
Fifth-year senior guard Matt Bradley (13.0 ppg, 53 3PM) is the only player on the team averaging double digits in the scoring column, but he's one of several Aztecs who are capable of knocking down a few shots from long range. Guards Darrion Trammell (9.5 ppg, 44 3PM), Lamont Butler (8.6 ppg, 34 3PM) and Micah Parrish (7.9 ppg, 45 3PM) can all get hot in a hurry, as can Adam Seiko (6.2 ppg, 52 3PM).
SDSU held off No. 12 seed Charleston by six before bouncing No. 13 Furman from the Big Dance with a 23-point triumph in the second round.
Alabama cruises into Louisville as a heavy favorite to emerge as the South Region champs, but cannot afford to overlook the upset-minded Aztecs or the other two participants that would be waiting in Sunday's regional final.
Amidst all the off-the-court controversy surrounding them, the SEC-champion Crimson Tide has been one of the nation's hottest teams all season on the court, spending the final 14 weeks ranked inside the top 10.
That being said, the Tide is somewhat of a stranger to postseason success, as this is only the ninth trip to the Sweet 16 in program history. The tournament's No. 1 overall seed, Bama has won its last five and nine of its last 10, but is hoping to reach the Elite Eight for just the second time in school history (2004), and the Final Four for the first time.
It all starts with 6-foot-9 star freshman Brandon Miller, who leads the Tide in both scoring (19.2 ppg) and rebounding (8.2 rpg), while 6-10 freshman forward Noah Clowney is averaging 10.0 points and 7.9 boards a night. Ohio University transfer guard Mark Sears (12.4 ppg) is another scoring weapon for head coach Nate Oats.
The Tide rolled to easy victories in the first two rounds of the tournament — a 21-point thumping of No. 16 seed play-in winner Texas A&M-Corpus Christi and a 22-point win over No. 8 Maryland.
Midwest Region — No. 5 Miami (27-7) vs. No. 1 Houston (33-3), 7:15 p.m., CBS
The line: Houston by 7.
Final NET ranking: Miami 35; Houston 1.
Record vs. AP Top 25: Miami 4-1; Houston 1-1.
The Hurricanes have gotten this far only four other times in school history and are the lone ACC school remaining, but are looking to make it back to the Elite Eight for a second-straight season. Miami has never been to a Final Four, but veteran head coach Jim Larrañaga has, when he led 11th-seeded George Mason there in 2006.
ACC Player of the Year Isaiah Wong is a junior guard who can fill it up, averaging a team-high 16.1 points per game. Fifth-year guard Jordan Miller (15.1 ppg, 6.2 rpg), a George Mason transfer, joins Wong in the backcourt along with Kansas State sophomore transfer Nijel Pack (13.4 ppg), while Arkansas State transfer forward Norchad Omier averages a double-double (13.4 ppg, 10.1 rpg) down low for the Canes. Miami defeated No. 12 seed Drake, 63-56, and then upset No. 4 Indiana by 16 in the second round.
Houston got an early scare, but eventually advanced past No. 16 seed Northern Kentucky in the opening round before sending ninth-seeded Auburn home by 17 in the Round of 32.
The Cougars are in the Sweet 16 for the 14th time, and like  Alabama have been one of the nation's most consistent squads throughout the campaign, ranked No. 1 for seven weeks of the season and never ranked lower than fifth in the country. They were ranked No. 2 just behind the Crimson Tide in the final AP poll.
Kelvin Sampson's Cougars revolve around senior guard Marcus Sasser, the AAC Player of the Year who averages a team-best 16.9 points per game. AAC Freshman of the Year Jarace Walker, a talented, 6-8 forward, contributes 11.1 points and 6.7 rebounds a night, while a trio of juniors — Jamal Shead, J'Wan Roberts and Tramon Mark — each average right around 10 points a game as well. Shead was named the conference's Defensive Player of the Year, while Sampson picked up Coach of the Year honors as well.
South Region — No. 15 Princeton (23-8) vs. No. 6 Creighton (23-12), 9 p.m., TBS
The line: Creighton by 9.5.
Final NET ranking: Princeton 111; Creighton 17.
Record vs. AP Top 25: Princeton 2-0; Creighton 6-7.
The Tigers are certainly "the Cinderella team" out of those still standing, after knocking out a pair of Power Five opponents to get here. The Ivy League champions busted a lot of people's brackets, eliminating No. 2 seed Arizona in the opening round, and then proved it wasn't a fluke by ending No. 7 Missouri's season with a convincing 78-63 victory.
Coach Mitch Henderson's Tigers are hoping to keep the momentum rolling all the way to Houston for what would be just their second trip to a Final Four (first since 1965).
Seniors Tosan Evbuomwan (14.8 ppg, 6.3 rpg, 4.7 apg), an All-Ivy first-teamer, and Ryan Langborg (12.3 ppg) anchor the Princeton offense, with junior guard Matt Allocco adding 10.8 points per game and freshman forward Caden Pierce, the Ivy League's Rookie of the Year, putting up 8.3 points and a team-best 7.4 rebounds per contest.
Creighton finished third in the Big East and was certainly battle-tested throughout the campaign, as referenced by 13 games against ranked foes. The Bluejays are in the Round of 16 for the fifth time, and with a win, would be making their second Elite Eight appearance of all time (first since 1941).
Coach Greg McDermott doesn't go to his bench often, as all five starters are averaging at least 29.1 minutes per outing.
As a result, junior 7-footer Ryan Kalkbrenner (15.7 ppg, 6.2 rpg, 2.2 bpg) is one of five Bluejays starters averaging 10 points or more. Kalkbrenner was a first-team All-Big East selection. Sophomore Trey Alexander (13.6 ppg) joins South Dakota State senior transfer Baylor Scheierman (12.5 ppg, team-high 8.2 rpg) and sophomore Ryan Nembhard (12.4 ppg, team-high 4.8 apg) in the backcourt.
Creighton knocked off No. 11 seed NC State by nine and then upset third-seeded Baylor to make it to the Yum! Center. Now, the Bluejays will look to make some more tournament memories.
Midwest Region — No. 3 Xavier (27-9) vs. No. 2 Texas (28-8), 9:45 p.m., CBS
The line: Texas by 4.
Final NET ranking: Xavier 22, Texas 7.
Record vs. AP Top 25: Xavier 6-5; Texas 9-6
The Musketeers have now made it to the Sweet 16 nine times and the Elite Eight three times, but have also never experienced a Final Four. Sean Miller is in the midst of his first season of his second stint in Cincinnati, after spending the first five seasons (2004-09) of his head-coaching career at Xavier prior to a 12-year run in Arizona (2009-21). Miller had the Musketeers on the doorstep in 2008, but they fell in the regional final to UCLA.
Xavier finished just ahead of Creighton in the Big East standings, and also had its share of big games. This year's team is led by UTEP grad-transfer guard Souley Boum, an All-Big East first-teamer who averages a team-high 16.5 points per game, while senior forward Zach Freemantle (15.2 ppg, team-high 8.1 rpg), junior guard Colby Jones (15.0 ppg, 5.7 rpg, 4.3 apg) and fifth-year 7-footer Jack Nunge (14.1 ppg, 7.7 rpg) add plenty of proven experience to the Musketeers' offense.
Xavier survived in the first round against No. 14 seed Kennesaw State, 72-67, before eliminating No. 11 Pitt, 84-73, in the second round.
The Longhorns, winners of nine games against ranked opponents this season, are hoping to get back to the Final Four for the fourth time in program history and first in 20 years. After finishing second to Kansas in their penultimate season in the Big 12, the Longhorns got revenge on the Jayhawks in the conference championship game, winning by 20 points.
Texas then took care of No. 15 seed Colgate by 20 and No. 10 Penn State by 5, and is making its 11th Sweet 16 appearance in school history despite losing former head coach Chris Beard early in the season — after just eight games — due to a domestic issue.
Interim coach Rodney Terry has since led the Longhorns to a 21-7 mark and a top-five AP finish, and he's got a talented, senior-laden group to work with. The Horns rely on the backcourt duo of senior Marcus Carr (team-leading 15.8 ppg, 4.0 apg and 1.7 spg), an All-Big 12 first-team selection, and sophomore Tyrese Hunter (10.1 ppg), while fifth-year forward Timmy Allen adds 10.3 points and a team-high 5.6 rebounds per game.
Another senior guard, Sir'Jabari Rice, has started just three games, but is the team's second-leading scorer on the season with 12.9 points per contest off the bench. Rice was selected as the conference's Sixth Man of the Year.
Odds to win it all as of Wednesday evening, according to Caesars Sportsbook:
Alabama +350
Houston +360
UCLA +800
Texas +1000
Tennessee +1000
UConn +1100
Creighton +1100
Gonzaga +1200
Arkansas +3000
Michigan State +3000
Kansas State +3000
Xavier +4000
San Diego State +4000
Florida Atlantic +4500
Miami +5000
Princeton +20000