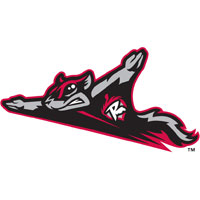 The Richmond Flying Squirrels' (68-54) troubles followed them to New England, where they dropped the opener of a three-game series, 8-2, to the new hampshire Fisher Cats (59-63) at Northeast Delta Dental Stadium on Tuesday night.  The Squirrels have now dropped 10 of their last 12 ballgames, but remain in playoff position by eight games as Bowie also lost again.
Skyler Stromsmoe got the Squirrels off to a quick start when he singled off right-hander Austin Bibens-Dirkx to start the ballgame.  He then advanced to second on a passed ball and was bunted to third by Kelby Tomlinson.  Blake Miller hurriedly put Richmond ahead, 1-0, when he grounded out to the shortstop.
The Richmond lead lasted until the third when lefty Adalberto Mejia found trouble.  Jorge Flores got the Fisher Cats started with a one-out single.  Jon Berti followed with a single to put two aboard.  Mejia then walked the next two batters to force in a run and tie the game, 1-1.  Andy Burns then lifted a sacrifice-fly to right field to put new hampshire ahead, 2-1.  K.C. Hobson followed and also lifted a fly ball to right field.  Stromsmoe, struggling with the wind, dropped it.  The error allowed two runs to score as the Fisher Cats took a 4-1 lead.
The Fisher Cats got to Mejia again in the fourth, before chasing him from the ballgame.  With one out, Michael Crouse banged a double off the left-field wall.  Jorge Flores followed and yanked a double to the left-field corner.  Crouse scored for a 5-1 lead.  Mejia faced two more hitters before calling it a night.
Mejia (5-8) took the loss over just 3 2/3 innings.  He was charged with five runs – three earned – on five hits.  He walked four and struck out none.
Devin Harris got the Squirrels within three runs when he led off the fifth inning with a low-flying solo-home run to left field.  Harris' 13th of the season cut the new hampshire lead to 5-2.
Bibens-Dirkx (5-2) faced little adversity during his outing, and earned the win over seven innings.  He allowed just two runs – one earned – on three hits.  He walked none and struck out six, taking his second win of the season against Richmond.
Right-hander Carlos Alvarado relieved Mejia and turned in a strong performance.  However, after already twirling three scoreless innings, he conceded a solo-home run to Melky Mesa to expand New Hampshire's lead to 6-2.
The Fisher Cats capped the scoring for the night with two runs off of righty Edwin Quirarte in the eighth inning.  Quirarte didn't help his own cause by issuing three walks in the inning.
Right-hander Dustin Antolin handled a scoreless eighth inning out of the new hampshire bullpen.  Lefty Richard Bleier then finished off the win, having little trouble in the ninth.
Game two of the three-game series is scheduled for 7:05 p.m. on Wednesday night at Northeast Delta Dental Stadium.  Richmond RHP Chris Stratton (0-1, 4.50) will make the start against new hampshire RHP P.J. Walters (1-0, 2.70).  The Flying Squirrels Pregame Warmup begins at 6:35 p.m. on Sports Radio 910 and SportsRadio910.com.