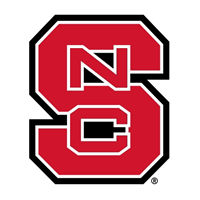 NC State won 21 games, beat Syracuse once, maybe should have beaten the Orange twice, beat Tennessee, but yet the Wolfpack looks to be on the outside looking in as far as the NCAA Tournament is concerned. Duke coach Mike Krzyzewski thinks this is ridiculous, for what it's worth.
"I said to (NC State coach Mark Gottfried) at the end of the game, I hope you guys get in," said Krzyzewski, whose Blue Devils defeated State 75-67 in the ACC Tournament semifinals on Saturday.
A day earlier, the Pack upset #2 seed Syracuse, 66-63, to keep its ACC and NCAA hopes alive, and on Saturday State was able to hang with Duke into the second half before the Dukies took control.
Coach K pointed to the talk that the Atlantic 10 is likely to get six bids to the NCAAs, while right now the ACC is looking at maybe just five, admitting he'll "probably get in trouble" for saying it, "but put them in our conference and go through the meat grinder that our conference has to go through."
"Our league should get more respect," Krzyzewski said. "The fact that Pitt comes in here and people are saying they have to do something, come on. Come on, man. I don't get it. The Clemson team we played last night is a heck of a basketball team. But this team we played today is really good. I think Mark's done a fabulous job with this team. And again, you watch Warren. Do any of those kids look jealous? None. I mean, they got it going. They're a tough out, man. They're a tough out. They'd be a tough out. I wouldn't want to play them in the NCAA Tournament."
Gottfried made his own pitch for his team's tourney invite.
"I think so, but I don't have a vote," said Gottfried, whose team struggled early with losses to graduation, tempting him to lighten the nonconference schedule, "but I didn't think that was the right thing to do. I wanted to do what the committee has asked us to do. The selection committee has asked you to play a tough nonconference schedule, take your team on the road, which we did at Cincinnati our second game. Went to Tennessee and won."
"I think our league is a great league. I hope that we don't get penalized with our record in the league when you play in a great league like ours. I certainly think the committee I've talked to a number of members different years, not this year. I trust them. I do. I hope they really take a good look at our team and see how much better we are than we were at the beginning. To win at Pitt late in the year, beat Syracuse. Honestly, if you win at Pitt, beat Syracuse, beat Duke, hell, you're about a Final Four team by then. It's hard to ask of anybody. We showed we certainly believe in the field of 68," Gottfried said.