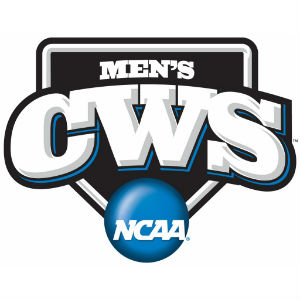 The only two national seeds to make it to Omaha for the 2014 College World Series meet Tuesday night with a lot on the line. #3 seed UVA (50-14) and #7 seed TCU (48-16) square off at 8 p.m. Eastern with the quick route to the championship series on the line.
The winner only has to win one more game to make it to the championship round; the loser has to win three more, including two more against the winner, to play for the national title.
The 'Hoos and Horned Frogs are basically mirror images of each other; both can put runs on the board, both can pitch it, and both can field it.
First, to the offense. TCU as a team has a .282BA/.373OBP/.357SLG and scores 5.1 runs per game. Virginia is hitting .281BA/.379OBP/.381SLG as a team and scores 5.5 runs per game. Slight advantage: Virginia.
Pitching: This is the rare matchup for Virginia where its opponent has the slight advantage. TCU boasts a 2.18 team ERA and .216 opponent batting average. The UVA staff has a 2.29 team ERA and a .202 opponent batting average. The probable starters Tuesday night are Brandon Finnegan (9-3, 2.12ERA, 129K/27BB/70H in 97.2IP, .202oppBA in 2014) for TCU and Brandon Waddell (9-3, 2.66ERA, 63K/16BB/87H in 98IP, .244oppBA in 2014) for Virginia. Slight advantage: TCU.
Defense: This is probably the rare matchup for TCU in which its opponent has the slight advantage. TCU has a .977 team fielding percentage and has given up just 27 unearned runs in 64 games in 2014. UVA is a tiny tick better, with a .982 team fielding percentage and just 23 unearned runs in 64 games in 2014. Slight advantage: UVA.
So there you have it. Both teams won one-run nailbiters to get to the winners bracket final, and they did it in fashion typical to how their 2014 seasons have gone, with pitching, defense and just enough hitting. Expect a similar type game Tuesday night.
Garrett Crain: .329BA/.411OBP/.424SLG, 1HR, 19RBI, 8-13SB
Boomer White: .318BA/.369OBP/.391SLG, 2HR, 48RBI, 11-15SB
Dylan Fitzgerald: .314BA/.395OBP/.432SLG, 2HR, 33RBI, 8-12SB
Kevin Cron: .278BA/.388OBP/.435SLG, 5HR, 40RBI
Cody Jones: .272BA/.397OBP/.321SLG, 0HR, 17RBI, 28-33SB
Brandon Finnegan: 9-3, 2.12ERA, 129K/27BB/70H in 97.2IP, .202oppBA
Riley Farrell: 3-1, 0.87ERA, 15 saves, 66K/13BB/19H in 41.1IP, .138oppBA
Trey Teakell: 6-0, 2.22ERA, 36K/13BB/44H in 56.2IP, .220oppBA
Alex Young: 1-3, 2.53ERA, 39K/16BB/35H in 42.2IP, .224oppBA