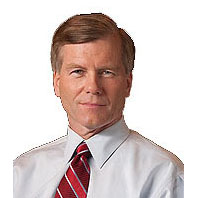 Gov. Bob McDonnell today signed three new pieces of legislation that will provide additional tools to combat human trafficking in Virginia and will provide additional services for victims of this horrific practice.
"Unfortunately, the subjugation of human beings who are forced against their will into labor or worse, into the sex trade, is not something relegated to the history books or to underdeveloped third-world counties," McDonnell said.
An estimated 800,000 people are trafficked across international borders every year, and between 4 million and 27 million people are said to be trapped in modern-day slavery across the world. Virginia ranked among the top 10 states for human trafficking report calls received in the National Human Trafficking Resource Center's call center between December 2007 and December 2010.
"We must take action to raise awareness of this disturbing scourge on our society, and we must provide law enforcement and social services agencies all of the tools we can to address these inhumane crimes," McDonnell said.
The governor also signed a proclamation to designate Jan. 11 as an annual observance of Global Human Trafficking Awareness Day in Virginia. This designation will help to keep this vital issue on the forefront of Virginians' minds and will encourage citizens to identify and report suspected instances of human trafficking for investigations by authorities.
"We are very grateful to Gov. McDonnell and the members of the General Assembly who, along with the many grassroots organizations in Virginia, have taken an active leadership role on this issue," said Sara Pomeroy, founder of the Richmond Justice Initiative and member of the Virginia Coalition Against Human Trafficking. "Together, with the proper awareness and action, we can fight to end modern-day slavery in our lifetime. Today is significant in many ways because it is sending a message to traffickers and those who enslave others that Virginia is open for honest, legal businesses, but closed for slavery."
Human-trafficking legislation signed today:
SB1453 (Newman) – Agency Information Sharing
Requires Department of Criminal Justice Services to Advise Law Enforcement Agencies on Human Trafficking Issues
 
HB1893 (Hugo) – Trafficking of a minor reclassified to Class 2 felony
Makes abduction of a minor for the purpose of the manufacture of child pornography or prostitution a Class 2 felony
 
HB2190 (Ebbin) – Victims Services
Requires the Department of Social Services to develop a service plan for victims of human trafficking