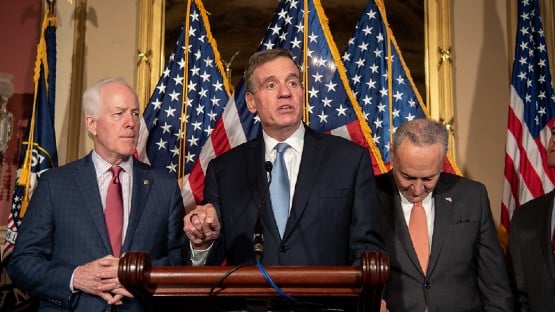 To Mark Warner, the effort to focus on diversity, equity and inclusion in government isn't just about it being the right thing to do. It's also what's best for business.
"I believe that reflecting Virginia's diversity and making sure it's fully inclusive and making sure it's fair, yeah, I think there are moral reasons for that. But I think there are plain old Business 101 reasons," said Warner, a Democrat who has represented Virginia in the U.S. Senate since 2009, and served a term as governor in Virginia from 2002-2006.
Before that, Warner made millions in the tech sector – his net worth is estimated in the $300 million range.
"I will match my business credentials against any elected official, current or former, on making the case that in a Commonwealth that is 35 percent diverse, we ought to make sure all of those Virginians are getting a fair shake and the fair shot that I had, and that makes good business sense for Virginia," Warner said.
Now, Glenn Youngkin, a Republican, the current Virginia governor, who one day, no doubt, aspires to be his side's version of Warner, has business cred of his own.
Youngkin has an estimated net worth at $470 million, his riches coming from his work in the investment sector.
As the co-CEO of The Carlyle Group, Youngkin backed diversity efforts, including pledging donations to social-justice initiatives in the wake of the murder of George Floyd at the height of the 2020 summer protests.
But now Youngkin is an outspoken critic of DEI, because that's where the political winds in the Republican Party have guided him.
Funny how that is.
It has Youngkin on the wrong side of history, to Warner's view.
"Anyone that denies that Virginia history, that we got to be telling the good and the bad and the ugly of Virginia's history, including the enormous stain on our history around massive resistance where Virginia schools shut down public schools rather than integrate, and somehow that would not have had an effect on people that lost those years of education, I think is doesn't acknowledge the reality of what happened," Warner said.
The Business 101 lesson here from Warner:
"Virginia, at this point, is approaching 35 percent people of color, black, Latino, AAPI," Warner said. "If that 35 percent of Virginians are not fully participating, if they are not getting the same educational opportunities, if they're not starting businesses at the same rate as the balance of Virginia, if they don't have fair access to capital, then the enterprise we know as the Commonwealth of Virginia is not going to maximize its returns, it's not going to have the kind of attraction to people from around the country and around the world that we want Virginia to be."