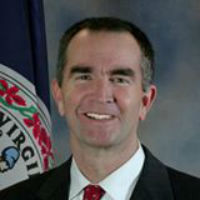 Lt. Gov. Ralph Northam announced today that Governor McAuliffe's budget includes $15.5 million to support early childhood interventions. The investment follows recommendations from both the Children's Cabinet and the Commonwealth Council on Childhood Success.
"Governor McAuliffe demonstrated his commitment to Virginia's youngest and most vulnerable children by including funding for effective early intervention programs in his biennial budget," said Lt. Gov. Northam."The Commonwealth Council on Childhood Success has heard extensively about the positive outcomes of evidence-based home visiting. The increased funding will allow these programs to ramp up their efforts and provide necessary support so that more children can thrive in a Healthy and Prosperous Virginia."
Secretary Holton added, "Ensuring that every child in the Commonwealth has the opportunity for a bright future is a top priority for the Children's Cabinet and the Governor's administration. When young children and their families receive high quality home visiting, the academic outcomes of those children improve demonstrably. Investing in these programs help ensure that all children are ready to thrive in the classroom and can succeed academically."
The two-year budget plan includes $15.5 million for the following programs.
$6,750,000 each year in Temporary Assistance to Needy Families (TANF) funds to increase funding for programs using the home visiting model. This increase more than doubles funds for programs following the Healthy Families America home visiting model from $4.3 to $11 million in TANF funds annually.
$1,000,000 each year to increase non-general fund support for the Comprehensive Health Investment Project (CHIP) of Virginia. The purpose of the program is to develop, expand, and operate a network of local public‐private partnerships providing comprehensive care coordination, family support, and preventative medical and dental services to low‐income, at‐risk children.
The proposals are part of the Governor's broader investment in Virginia's children. The entire budget will be announced on Thursday, December 17.